30-10-2018 | Original | Issue 1/2019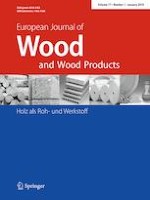 Cu thin films on wood surface for robust superhydrophobicity by magnetron sputtering treatment with perfluorocarboxylic acid
Authors:

Wenhui Bao, Ming Zhang, Zhen Jia, Yue Jiao, Liping Cai, Daxin Liang, Jian Li
Important notes
Electronic supplementary material
Wenhui Bao, Ming Zhang and Zhen Jia contributed equally.
Publisher's Note
Springer Nature remains neutral with regard to jurisdictional claims in published maps and institutional affiliations.
Abstract
Superhydrophobic wood was fabricated using a magnetron sputtering method, which can be applied to substrates with different shapes for its facile and controllable advantages. Copper was deposited on the cross-section surface of pristine wood followed by a treatment of perfluorocarboxylic acid. The results revealed that the deposition thickness played an important role in varying the surface morphology. In the optimized condition, water contract angle (CA) and sliding angle can reach 154° and 3.5°, respectively, when the deposition thickness was 50 nm. More importantly, the superhydrophobic surface can resist up to 100 times impingement of sand abrasion, and CA retained to be 151°. This method will have promising applications in wooden artifacts, such as clock frame, art, carvings and decorations.