03-10-2016 | Issue 3/2017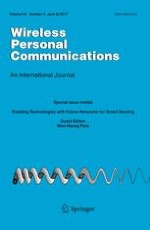 Dielectric Constant Measurement of Low Loss Materials Using NB BPF with Modified Slow Wave Resonator
Journal:
Authors:

Gholamreza Karimi, Azita M. Moattari
Abstract
Compact wide-stopband narrow bandpass filter using modified slow wave resonators is proposed. The basic filter consists of an open-stub, transmission line and coupled line. Using transmission line theory and coupled line structure, the new design methodology of a narrowband BPF is employed and resonant frequency has been clearly explained. Experimental results show that the designed filter has a fractional-bandwidth of 2 %, an insertion loss about 0.38 dB and return loss better than 30 dB. Spurious response suppression is achieved until 5
f
0
. The overall physical size of this filter is only 23.9 mm × 10.2 mm or 0.41 λ
g
× 0.175 λ
g
, having a smaller size compared with conventional narrowband pass filters. The bandwidth of this filter has capability of changing with the coupled lines used in the middle of the proposed filter structure, having tunable resonance frequencies. Due to the narrow bandpass property, the proposed filter is used as a sensor to measure the dielectric constant of materials. The resonant characteristics of resonator vary with dielectric constant of the material. The proposed filter is designed, simulated and fabricated. The measured and simulated results are well complied with each other.