25-08-2020 | Issue 4/2020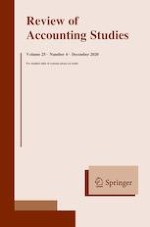 Does it pay to 'Be Like Mike'? Aspiratonal peer firms and relative performance evaluation
Journal:
Authors:

Ryan T. Ball, Jonathan Bonham, Thomas Hemmer
Important notes
Electronic supplementary material
We appreciate helpful comments from Ana Albuquerque, Georgii Aleksandrov, Rick Antle, Robert Bushman, Shirley Daniel, Paul Fischer (editor), Lindsey Gallo, Eric Ghysels, Mirko Heinle, Raffi Indjejikian, Evelyn Intan, Eva Labro, Robin Litjens, Heidi Packard, Mark Penno, Darren Roulstone, Abbie Smith, an anonymous reviewer, and seminar participants at the Chinese University of Hong Kong, Goethe University Frankfurt, Hong Kong University of Science and Technology, Michigan State University, Rice University, The Ohio State University, University of Alabama, University of California at Berkeley, University of Chicago, University of Hawaii, University of Iowa, University of North Carolina at Chapel Hill, University of Toronto, the 2018 FARS Midyear Meeting, and the 2018 Kapnick Spring Conference at the University of Michigan.
Publisher's note
Springer Nature remains neutral with regard to jurisdictional claims in published maps and institutional affiliations.
Abstract
We examine the manner and extent to which firms evaluate performance relative to aspirational peer firms. Guided by the predictions of an agency model, we find that CEO compensation increases in the correlation between own and aspirational peer firm performances. In addition, we define and test conditions where aggregate peer performance, which has been the primary focus of prior relative performance evaluation studies of competitive peers, is expected to have an association with CEO compensation. These conditions are supported by our empirical results. Finally, we document that our results are more pronounced when the firm-peer relationship is one-way and the peer firm is in a different industry and therefore is more aspirational.