2015 | OriginalPaper | Chapter
31. Earth Observation for Defense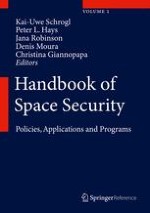 Read first chapter
Authors: Dario Sgobbi, Michelangelo L'Abbate, Daniele Frasca, Vittoria Piantelli, Giorgio Sciascia, Ignazio Rana
Publisher: Springer New York
Abstract
Regardless of specific defense applications, one of the most important features requested to a spaceborne Earth observation system for defense is to perform with high flexibility in order to assure the satisfaction of defense exigencies whenever and wherever they arise.
Further, in a military contest, it is of fundamental importance that the data availability, once requested to the system, is assured with a probability close to 100 %.
Last but not least, important aspect in the frame of defense application is the assurance of the confidentiality and integrity of the information; it is in fact of vital importance to be sure that only those who have requested the data can be able to use it and in addition that the data have not to be alterable by external entities.
All the above mentioned aspects involve system design features that have to be taken into account in order to answer to military exigencies.