02-02-2021 | Issue 5/2021 Open Access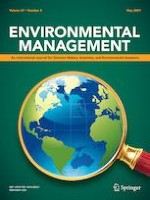 Effective Community Engagement during the Environmental Assessment of a Mining Project in the Canadian Arctic
Journal:
Authors:

Jason Prno, Matthew Pickard, John Kaiyogana
Important notes
Publisher's note
Springer Nature remains neutral with regard to jurisdictional claims in published maps and institutional affiliations.
Introduction
The Back River Project (Project) is an approved gold mine in Nunavut, Canada owned by the Canadian company Sabina Gold & Silver Corp. (Sabina). The Project is comprised of two main areas with an interconnecting Winter Ice Road: the Goose Property where open pit and underground mining operations will occur in addition to ore processing, and a Port and Marine Laydown situated ~130 km to the north. Prior to commencing construction and operations, Sabina was required to complete a multi-year environmental assessment (EA) process overseen by the Nunavut Impact Review Board (NIRB). EA is one of the most influential aspects of environmental regulation and policy in North America. It involves describing a proposed activity and applicable baseline conditions, possible environmental and socio-economic effects of the activity, measures to mitigate or eliminate adverse effects while providing benefits, identification of remaining impacts and their significance, and plans for follow-up and monitoring. Regulatory authorities then decide whether to accept, reject, or modify the project proposal (Hanna
2016
).
As part of the Project's EA process, Sabina developed a comprehensive community engagement program to share information, receive and address local feedback and concerns, and develop productive relationships in support of Project advancement. Due to their traditional and socio-economic ties to the Project area, Sabina focused its engagement efforts on the Kitikmeot Region communities of Cambridge Bay, Kugluktuk, Bathurst Inlet, Bay Chimo, Gjoa Haven, Taloyoak, and Kugaaruk (Fig.
1
).
1
Approximately 90% of the Kitikmeot Region's population of 6900 are Inuit (NBS
2019
; Statistics Canada
2017
). Inuit are Indigenous peoples of Canada's Arctic and one of three Indigenous groups officially recognized in Canada's Constitution Act, 1982 (the others being First Nations and Métis). Inuit culture and traditions remain vibrant in Nunavut. Strong connections to the natural environment also exist and subsistence harvesting continues to be practiced regularly. However, Inuit communities face various socio-economic challenges compared to the rest of Canada, including high unemployment and social assistance rates, low levels of educational attainment, and deficits in several other health and well-being indicators (ITK
2014
).
×
Sabina understood the value effective community engagement would bring to its EA and was familiar with the various legal requirements and stakeholder expectations surrounding it. The importance of community engagement in the EA process is recognized both internationally and throughout the Canadian Arctic (André et al.
2006
; Noble
2015
; Sinclair and Doelle
2015
, Udofia et al.
2015
; Vanclay et al.
2015
; Hanna
2016
; Arctic Council
2019
). Effective engagement ensures community members are informed about proposed projects and their concerns are more readily addressed. It thus contributes to the improved substance and acceptability of decision making. The process of decision making is also improved when the public is involved (Funtowicz and Ravetz
1993
; Eden
1996
; Barton
2002
; Pring and Noe
2002
; Innes and Booher
2004
; Parkins and Mitchell
2005
; O'Faircheallaigh
2009
; Diduck et al.
2015
; Mitchell
2019
). Although government and regulatory agencies often have consultation mandates to fulfill, proponent-led engagement programs are an important mechanism through which communication and decision making often occurs in practice. Effective engagement by proponents is also crucial during EA, as this is when regulators will carefully evaluate the degree to which local concerns have been addressed before issuing major authorizations.
Formal requirements for community involvement in resource development exist in Nunavut, with the Nunavut agreement (NA) establishing notable precedents. The NA is a comprehensive land claims agreement signed in 1993, whereby Inuit exchanged title to their traditional land in the Nunavut Settlement Area for a series of rights and benefits.
2
Designated Inuit organizations, such as the Kitikmeot Inuit Association (KIA), then gained important authority related to resource development in their regions, including land ownership and management, issuance of permits and other authorizations, and the ability to negotiate Inuit Impact and Benefit Agreements (IIBAs) with proponents.
The NA also created the NIRB, which is a resource co-management institution of public government whose authority is defined in the Nunavut Planning and Project Assessment Act (NuPPAA). NIRB is the sole agency overseeing EA in Nunavut and was created to ensure Inuit have an opportunity to be formally involved in, and even direct, impact assessment in Nunavut (Barry et al.
2016
; NIRB
2020
).
3
The nature of the land claims agreement on which the Nunavut EA process rests means that Indigenous communities play an even stronger role in the process than they would in Canadian federal and provincial EAs (Sinclair and Doelle
2015
). Evolving legal obligations related to Indigenous consultation have also created additional pressures on industry (Prno and Slocombe
2012
; Mulrennan
2015
).
Furthermore, the concept of a Social License to Operate has emerged to describe what stakeholders themselves have come to expect from mining projects and outlines the broad parameters of what proponent-led community engagement should aim to accomplish. A social license exists when a mining project is seen as having the broad, ongoing approval and acceptance of society to conduct its activities (Joyce and Thomson
2000
; Thomson and Boutilier
2011
). Gunningham et al. (
2004
: 307) add that it "governs the extent to which a corporation is constrained to meet societal expectations and avoid activities that societies (or influential elements within them) deem unacceptable, whether or not those expectations are embodied in law." The granting of a social license often implies local communities have been meaningfully involved in decision making, have had their concerns substantively addressed, and have received sufficient benefit from a mining project. When community support for resource developments has lacked, project advancement and regulatory approval challenges have frequently occurred in northern Canada (e.g., Poelzer
2002
; Bone
2009
; White
2009
; Prno and Slocombe
2012
; Mulrennan
2015
; Brown
2019
). Protests, blockades, legal challenges, and interventions in regulatory reviews are some of the tools unsupportive communities have used.
Sabina sought to develop a comprehensive community engagement program to address this complex social and regulatory landscape. For the purposes of this paper, three criteria were useful for assessing the "effectiveness" of this program over time: (1) whether broad community support for the Project (i.e., a social license) was obtained; (2) whether an EA approval was issued; and (3) whether tangible links between a social license and EA approval could be discerned. The remainder of this paper describes Sabina's engagement program, successes and challenges encountered from the perspective of a mineral developer, and insights obtained for effective community engagement in a Canadian Arctic EA.
Sabina's Community Engagement Program
There is much to be learned from Sabina's community engagement program, with insights that may benefit other northern mineral developers participating in the EA process. More specifically, Sabina's experiences revealed the importance of engaging early and often using a context-specific approach; comprehensive record-keeping and reporting; the meaningful incorporation of community perspectives and TK; and focusing on long-term relationships, partnerships, and local benefits. Although Sabina's engagement program was specific to one particular Canadian Arctic context, insights applicable to a broader audience are also offered. To help substantiate its findings, this paper has relied on the experiences of Project team members, public EA records, the community engagement literature, and other relevant sources.
Insights for Effective Community Engagement
Concluding Remarks
Community engagement serves many aims. For mining proponents in the Canadian Arctic, it functions as a key platform to address local concerns, build community support, and help secure project approvals. As demonstrated throughout this paper, broad community support was achieved by Sabina through the course of its engagement program for the Back River Project. An EA approval for the Project was also issued after an exhaustive review process that placed substantial focus on community participation and local knowledge integration.
Effective community engagement was accomplished by Sabina, in large part, through engaging early and often using a context-specific approach; comprehensive record-keeping and reporting; the meaningful incorporation of community perspectives and TK; and focusing on long-term relationships, partnerships, and local benefits. Similar insights have been reflected elsewhere in the best practice literature and Sabina's success lends further credibility to their application in Canada's Arctic. However, best practices are often presented in a general and broadly applicable manner. Sabina's experiences strongly suggest the need for proponents to adapt and tailor their community engagement programs according to their individual circumstances.
Company-specific factors must also be considered. The authors found having the strong support of senior personnel (i.e., at the Board of Directors and executive levels) was vital to ensuring appropriate program resources were made available and community perspectives were being considered throughout corporate decision-making. Likewise, the skills and qualifications of the engagement team members themselves were important; northern community experience, inter-personal and inter-cultural capabilities, familiarity with best practices, and a capacity to execute responsibilities in challenging circumstances were some of the traits that contributed to successful outcomes. Having consistent personnel represent the company was also important and encouraged local familiarity, relationship continuity, and enhanced opportunities for dialogue and trust-building with communities.
Elements outside a company's influence can also affect outcomes. Sabina's success was facilitated by the jurisdiction in which it operated (Nunavut), including its settled land claim and robust regulatory regime. This created enhanced certainty for parties involved in the EA process by establishing comprehensive participatory requirements and oversight mechanisms, and by clearly delineating where Inuit had authority over Nunavut's lands and resources. Without strong institutional arrangements such as these (and the organizations to uphold them), communities would have much less influence in Nunavut's EA process and weaker incentives would exist to address their concerns.
In addition, communities of the western Kitikmeot Region had previous experience with mining. This meant residents were knowledgeable about resource development prior to Sabina's arrival and were better prepared to engage Sabina on complex issues early in the EA process. Previous exposure to the opportunities offered by mining, in addition to persistent regional socio-economic challenges such as high unemployment, may have also created a more supportive context from early on. The promise of jobs and other economic opportunities was often cited by communities as a key reason for supporting the Project during the EA (e.g., NIRB
2016b
and
2017b
; Sabina
2020
).
However, not all communities can be expected to have similar views on mineral development, and some projects may never be able to reconcile the concerns voiced by residents. While this reality must be acknowledged, insurmountable "project-stopper" disputes are not overly common in the Canadian Arctic and many examples of compromise and accommodation exist. To be clear, Sabina did not receive the support of 100% of its stakeholders, and no mine likely ever will. The goal of mineral developers should thus be to meaningfully engage all key parties, substantially address relevant concerns where practical, and build community support when possible. Ultimately, government and regulatory officials need to balance any competing considerations when making their final decisions.
Challenges and setbacks are also bound to arise in any engagement program. Even with the substantial community support Sabina had in Nunavut leading up to the initial Final Hearing, for example, a negative recommendation was still issued by NIRB over concerns about potential significant adverse effects. Transboundary issues related to caribou were a major focus for NIRB and the views of Northwest Territories groups opposing the Project are believed to have played an important role in the Board's initial decision. Leading up to this, Sabina had placed substantial focus on engaging Inuit and prioritizing Nunavut-based issues during the EA. This approach was purposeful and justifiable on several grounds, but likely also resulted in some Northwest Territories residents feeling insufficiently engaged by Sabina. While this suggests more fulsome engagement with Northwest Territories groups could have been conducted to help avoid these issues, other factors should also be considered.
For one, it must be kept in mind this was a Nunavut-based project with mineral resources located on Inuit Owned Land established through a settled land claim. The Project thus fell under the jurisdiction of the NA and the EA process outlined in it. In 2012, the federal government also confirmed the Project was to be assessed through a NIRB-led Part 5 review under the NA and not a Part 6 review, which would have required the establishment of a federal EA panel.
8
Furthermore, Project effects were expected to be mostly concentrated in Nunavut and on Inuit communities. These combined factors necessitated the strong prioritization of Inuit issues in the EA. Secondly, the Government of Canada (
2017a
) uncovered various deficiencies in the initial conclusions reached by NIRB before returning the assessment to the Board for further review.
9
We acknowledge different stakeholder views were expressed on this matter; some individuals saw this as a reasonable rebuke of NIRB's handling of the file, while some saw it as federal interference in the work of a land claims-enshrined co-management board. We view this in an alternative light and consider the case a successful application of the NA and a recognition of Inuit rights. This is because the priorities of regional Inuit were ultimately satisfied through the process. Moreover, the NA's signatories explicitly envisioned the need for an executive arbiter of issues when they included provisions for federal ministerial oversight of Nunavut's EA process (see Article 12.5.7 of the NA).
While Sabina addressed NIRB's concerns through additional mitigation and consultation, the Project's enduring community and stakeholder support in Nunavut arguably played an important role in overturning the initial recommendation. A continued commitment to meaningful engagement and willingness to adapt ultimately assisted Sabina in advancing the Project through the EA phase.
There is now a growing body of successful case study evidence and best practice guidance available for developers to consider when implementing engagement programs. This paper adds to this body of knowledge, by discussing the successes and challenges encountered by one mineral developer implementing a community engagement program in the Canadian Arctic. It is hoped these insights will contribute to more effective engagement programs in the mining industry, enhanced consideration of stakeholder concerns in EA, and the improved well-being of nearby communities.
Acknowledgements
We would like to thank the many individuals and organizations who took the time to meet with Sabina and openly share their thoughts, insights, and knowledge through our community engagement program. We would also like to thank the interpreters, translators, and other community support personnel who assisted us in our work. In addition to the authors, there were many other members of the Sabina team who supported the company's community engagement efforts during the EA phase and deserve acknowledgement. We would also like to thank Adam Bonnycastle for preparing Fig.
1
.
Author Contributions
Writing—original draft preparation, J.P.; writing—review and editing, J.P., M.P. and J.K.; community engagement program design, execution, and/or oversight, J.P., M.P., and J.K. All authors have read and agreed to the published version of the manuscript.
Compliance with Ethical Standards
Conflict of Interest
The authors declare that they have no conflict of interest.
Open Access
This article is licensed under a Creative Commons Attribution 4.0 International License, which permits use, sharing, adaptation, distribution and reproduction in any medium or format, as long as you give appropriate credit to the original author(s) and the source, provide a link to the Creative Commons license, and indicate if changes were made. The images or other third party material in this article are included in the article's Creative Commons license, unless indicated otherwise in a credit line to the material. If material is not included in the article's Creative Commons license and your intended use is not permitted by statutory regulation or exceeds the permitted use, you will need to obtain permission directly from the copyright holder. To view a copy of this license, visit
http://​creativecommons.​org/​licenses/​by/​4.​0/​
.
Publisher's note
Springer Nature remains neutral with regard to jurisdictional claims in published maps and institutional affiliations.