26-04-2021 | Polymers & biopolymers | Issue 21/2021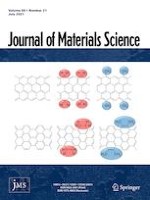 Highly dispersed polyaniline/graphene oxide composites for corrosion protection of polyvinyl chloride/epoxy powder coatings on steel
Journal:
Authors:

YuYing Han, ZiLiang Liu, Shuang Wang, Wenxue Wang, ChuanXing Wang, ChuanHui Gao
Important notes
Handling Editor: Jaime Grunlan.
Publisher's Note
Springer Nature remains neutral with regard to jurisdictional claims in published maps and institutional affiliations.
Abstract
In this study, a novel functionalized graphene oxide(GO) sheet of polyaniline(PANI) was prepared by in situ polymerization of aniline. Fourier transform infrared spectroscopy (FTIR), X-ray diffractometer (XRD) and scanning electron microscope (SEM) indicated the successful polymerization of aniline on GO tablets, and PANI was uniformly inserted into the GO lamellas that benefited the dispersion of PAGO. The anticorrosion properties of PAGO-PVC/EP coatings with different contents were analyzed and compared with PAGO-0 and the GO coatings. Electrochemical analysis showed that an appropriate amount of PAGO (0.5wt%) could significantly improve the long-term corrosion resistance of the coating. Its excellent corrosion resistance was attributed to two parts: (1) PAGO had good dispersion and could improve the barrier property of the coating to block H2O, O2 and electrolytes from penetrating to the steel substrate; (2) PANI with complete electrical activity could timely transfer the electrons lost from the base to the coating surface, and form a passivation film composed of Fe3O4 and Fe2O3 by induction. The barrier property of GO and the self-healing ability of PANI made PAGO-based PVC/EP coatings excellent in corrosion resistance.