26-08-2020 | Issue 4/2020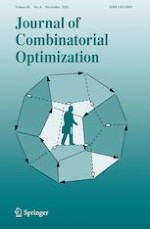 Influence maximization problem: properties and algorithms
Authors:

Wenguo Yang, Yapu Zhang, Ding-Zhu Du
Important notes
Publisher's Note
Springer Nature remains neutral with regard to jurisdictional claims in published maps and institutional affiliations.
Abstract
The influence maximization problem has become one of the fundamental combinatorial optimization problems over the past decade due to its extensive applications in social networks. Although a
\(1-1/e\)
approximation ratio is easily obtained using a greedy algorithm for the submodular case, how to solve the non-submodular case and enhance the solution quality deserve further study. In this paper, based on the marginal increments, we devise a non-negative decomposition property for monotone function and a non-increasing decomposition property for monotone submodular function (NDP). According to the exchange improvement (EI), a necessary condition for an optimal solution is also proposed. With the help of NDP and EI condition, an exchange improvement algorithm is proposed to improve further the quality of the solution to the non-submodular influence maximization problem. For the influence maximization, we devise effective methods to compute the influence spread and marginal gain in a successive iteration update manner. These methods make it possible to calculate the influence spread directly and accurately. Next, we design a data-dependent approximation algorithm for a non-submodular topology change problem from a marginal increment perspective.