Published in: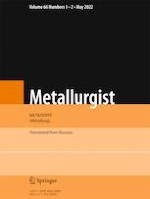 01-07-2022
Influence of Manufacturing Regimes on Structural Features and Mechanical Properties of High-Strength Pseudo Β-Titanium Alloy Rolled Workpieces
Published in: Metallurgist | Issue 1-2/2022
Login to get access
Abstract
The influence of production parameters for deformation and various regimes for manufacturing rolled workpieces 5 and 12 mm thick of pseudo-β-titanium alloy VT47 in a thermally hardened state is investigated. It is shown that the production regimes considered for manufacture and heat treatment of rolled workpieces provide the type of structure and set of mechanical properties required. It is found that inclusion of additional upsetting before forging into a sheet bar in the production scheme for manufacture of rolled workpieces with a thickness of 5 and 12 mm leads to an increase in elongation by 1–3% and an almost unchanged level of strength properties, as well as a reduction in heterogeneity of secondary α-phase particle distribution with respect to volume and a reduction in primary β-grain size.