13-10-2018 | Original Paper | Issue 6/2019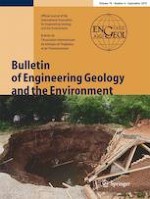 New roughness parameters for 3D roughness of rock joints
Authors:

Liren Ban, Chun Zhu, Chengzhi Qi, Zhigang Tao
Important notes
Liren Ban and Chun Zhu contributed equally to this work.
Abstract
To clearly portray the mechanical behavior of the shear process and to relate three-dimensional surface morphology to the shear strength of rock joints, we propose a new method, the equivalent height difference system, which can reflect that different geometric parameters of the asperities contribute differently to shear strength. A roughness parameter, the average equivalent height difference (AHD), is obtained by averaging the equivalent height difference in the shear direction, which can reflect the fluctuation and directivity of the joint surface morphology. The values of AHD at different sampling intervals were studied. The relationship between AHD values and sampling intervals is power law. Another roughness parameter, fractal dimension (
D
AHD
), was proposed based on the fractal component, which characterizes the relationship of roughness at different scales and describes the roughness comprehensively from the point of view of scale. We used these two newly proposed roughness parameters to characterize the roughness of five joint surfaces. The results show that the new method can well reflect the three-dimensional morphology of the joint and describe the anisotropy of roughness, and it can also overcome the influence of the sampling interval.