01-02-2014 | Methodologies and Application | Issue 2/2014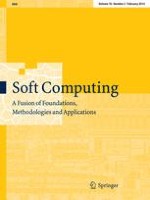 Performance enhancement of extreme learning machine for power system disturbances classification
Journal:
Authors:

R. Ahila, V. Sadasivam
Important notes
Communicated by G. Acampora.
Abstract
This paper proposes an optimal feature and parameter selection approach for extreme learning machine (ELM) for classifying power system disturbances. The relevant features of non-stationary time series data from power disturbances are extracted using a multiresolution S-transform which can be treated either as a phase corrected wavelet transform or a variable window short-time Fourier transform. After extracting the relevant features from the time series data, an integrated PSO and ELM architectures are used for pattern recognition of disturbance waveform data. The particle swarm optimization is a powerful meta-heuristic technique in artificial intelligence field; therefore, this study proposes a PSO-based approach, to specify the beneficial features and the optimal parameter to enhance the performance of ELM. One of the advantages of ELM over other methods is that the parameter that the user must properly adjust is the number of hidden nodes only. In this paper, a hybrid optimization mechanism is proposed which combines the discrete-valued PSO with the continuous-valued PSO to optimize the input feature subset selection and the number of hidden nodes to enhance the performance of ELM. The experimental results showed the proposed algorithm is faster and more accurate in discriminating power system disturbances.