25-10-2019 | Composites & nanocomposites | Issue 5/2020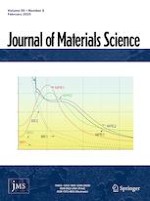 Phosphonium-based ionic liquid as crosslinker/dispersing agent for epoxy/carbon nanotube nanocomposites: electrical and dynamic mechanical properties
Journal:
Authors:

Danielle F. Santos, Anna Paula A. Carvalho, Bluma G. Soares
Important notes
Publisher's Note
Springer Nature remains neutral with regard to jurisdictional claims in published maps and institutional affiliations.
Abstract
Phosphonium-based ionic liquid (IL), tributyl(ethyl)-phosphonium diethylphosphate, was investigated as the curing agent for the preparation of nanocomposites involving multi-walled carbon nanotube (CNT) and epoxy resin (ER). Different mixing procedures were employed in order to attain better filler dispersion within the epoxy matrix. The dispersion effectiveness was evaluated by rheological behavior and transmission electron microscopy. Also the electrical conductivity and dynamic mechanical properties were investigated as a function of the mixing procedure. The AC electrical conductivity stayed in the range of 0.10–0.5 S m−1 with the addition of 1 phr of CNT. The non-covalent functionalization of CNT with the IL by previously milling the CNT with IL in a mortar resulted in better reinforcing effect and higher conductivity. Thus, the use of high shear speed mixer combined with acetone was considered the best mixing conditions. At these conditions, composites with high electrical conductivity and better dynamic mechanical properties were obtained. The effect of the amounts of CNT on the main properties of the ER-based nanocomposites was also investigated for systems cured with different amounts of IL. Both systems displayed low electrical percolation (1.6 × 10−4 and 4.7 × 10−4 volume fraction for systems cured with 10 or 30 phr of IL, respectively). Lower amount of IL resulted in outstanding dynamic mechanical properties, as well as better thermal stability.