01-06-2015 | Original Article | Issue 11/2015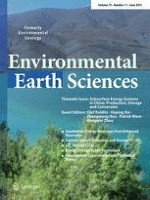 Polycyclic aromatic hydrocarbons in urban soils from kindergartens and playgrounds in Bratislava, the capital city of Slovakia
Journal:
Authors:

Edgar Hiller, Lucia Lachká, Ľubomír Jurkovič, Jaroslav Vozár
Abstract
One of the most urgent environmental problems in the world is contamination of soils by a variety of chemical pollutants in urban regions. The main goal in this study was to determine concentrations of 16 polycyclic aromatic hydrocarbons (Σ
16
PAHs) in soils in kindergartens and playgrounds because children are most often exposed to the soil surface. Totally, 61 surface soil samples (0–10 cm) were collected from the city of Bratislava and analyzed for basic soil properties and PAHs. The concentrations of Σ
16
PAHs ranged from 45 to 12,151 μg/kg with a mean concentration of 2,064.8 μg/kg and correlated positively with total organic carbon contents of the soils (Spearman
r
= 0.272,
p
< 0.034). There were significant differences in PAH concentrations between the old inner part of the city and the younger outer part. Kindergartens and playgrounds with more contaminated soils are located in the oldest part of the city (i.e., city center). Source apportionment using PAH diagnostic ratios indicated that traffic was likely the primary source of PAHs in soils, but wood or coal combustion from domestic heating as an additional contamination source could not be excluded. The benzo(
a
)pyrene equivalent concentrations for carcinogenic PAHs (BaP
tpe
) in 21 % of the soil samples were higher than the Canadian risk-based soil criterion. Nevertheless, total incremental lifetime cancer risks of PAHs ranged from 7.39 × 10
−9
to 2.79 × 10
−6
, indicating negligible risk for the health of children even in the most contaminated soils.