01-01-2020 | SPECIAL ISSUE | Issue 1/2020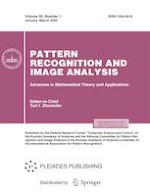 Statistical Analysis of Poisson Conditionally Nonlinear Autoregressive Time Series by Frequencies-Based Estimators
Authors:

Yu. Kharin, M. Kislach
Important notes
Yuriy Kharin
, 1949, graduated from Tomsk State University in 1971, PhD in 1974, Doctor of Sciences in 1986, Research Institute for Applied Problems of Mathematics and Informatics, Belarusian State University, Director. Research area: statistical data analysis, pattern recognition. More than 350 monographs and journal articles. Correspondent member of the National Academy of Sciences of Belarus, member of the American Mathematical Society, International Institute of Mathematical Statistics, Bernoulli Society, ACM, member of editorial board of 7 journals, Laureate of Belarus State Prize for Science.
Kislach Mikhail,
born in 1996. Received B.Sc. in actuarial mathematics from Belarusian State University, Belarus 2017, M.Sc. in applied computer data analysis from Belarusian State University 2019. Currently is a junior researcher at the Research Institute for Applied problems of Mathematics and Informatics. Field of scientific interests: statistical analysis of discrete data, time series analysis.
Abstract
Poisson conditionally nonlinear autoregressive model is proposed for integer-valued time series. Frequencies-based estimators (FBE) for model parameters, statistical forecasting statistics, and statistical tests for this model are constructed; their performance is analyzed theoretically and by computer experiments on simulated and real data.