01-06-2019 | Hauptbeiträge | Special Issue 1/2019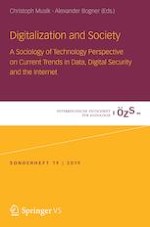 The digitalization of the social situation—a sociological exploratory experiment
Author:

Werner Reichmann
Abstract
Technological developments in the field of digital media have significantly transformed social interaction on many levels. These changes challenge micro-sociological research because some of its concepts and assumptions are no longer able to adequately reflect empirical reality. One of the fundamental micro-sociological units, the "social situation", has expanded in many respects and its interaction order has undergone substantial changes. While Erving Goffman assumed a "body-to-body" starting point in social situations and defined them as environments where individuals find themselves accessible to the naked senses of all others who are bodily co-present, recent technological developments fundamentally challenge this classic definition as interaction situations are increasingly digitally mediated.
In this paper, I use Karin Knorr Cetina's concept of the "synthetic situation" to take these new developments into account and re-conceptualize the social situation. To analyze the differences between Goffman's notion of the social situation and the technology-laden synthetic situation, I use an innovative exploratory experimental setup. I present two dimensions of the differences compared to Goffman's concept: the
dynamisation
of the synthetic situation and the manifold situational influences of "synthetic actors".