01-11-2017 | Issue 11/2017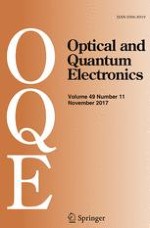 Time-dependent internal Quantum Efficiency and diffusion Modulation Transfer Function of N/P photodiodes
Journal:
Authors:

Christelle Peillon, Magali Estribeau, Pierre Magnan, Alice Pelamatti, Olivier Saint-Pé, Michel Breart de Boisanger
Important notes
This article is part of the Topical Collection on Numerical Simulation of Optoelectronic Devices, NUSOD' 17.
Guest edited by Matthias Auf der Maur, Weida Hu, Slawomir Sujecki, Yuh-Renn Wu, Niels Gregersen, Paolo Bardella.
Abstract
The minority carrier continuity equation has been solved with the Green's function approach in a N/P photodiode under the low-level injection assumption. The analytical solution obtained with this approach depends on the three spatial coordinates and on time. The diffusion and the collection of the excess minority carriers have been studied during the transitional period corresponding to very short integration times. The internal Quantum Efficiency and the diffusion Modulation Transfer Function have been calculated according to time. The simulations showed that they evolve with time until their steady-state values. When the integration time is very short, this evolution has to be taken into account for the estimation of the sensitivity of a photodiode and the contrast on an image of a sensor based on several adjacent N/P-type photodiodes.