12-11-2020 | Issue 6/2021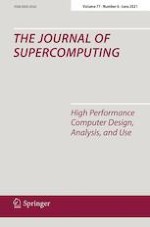 A dynamic VM consolidation approach based on load balancing using Pearson correlation in cloud computing
Journal:
Authors:

Jean Pepe Buanga Mapetu, Lingfu Kong, Zhen Chen
Important notes
Publisher's Note
Springer Nature remains neutral with regard to jurisdictional claims in published maps and institutional affiliations.
Abstract
In recent years, cloud data centers are rapidly growing with a large number of finite heterogeneous resources to meet the ever-growing user demands with respect to the SLA (service level agreement). However, the potential growth in the number of large-scale data centers leads to large amounts of energy consumption, which is constantly a major challenge. In addition to this challenge, intensive number of VM (virtual machine) migrations can decrease the performance of cloud data centers. Thus, how to minimize energy consumption while satisfying SLA and minimizing the number of VM migrations becomes an important challenge classified as NP-hard optimization problem in data centers. Most VM scheduling schemes have been proposed for this problem, such as dynamic VM consolidation. However, most of them failed in low time complexity and optimal solution. Hence, this paper proposes a dynamic VM consolidation approach-based load balancing to minimize the trade-off between energy consumption, SLA violations and VM migrations while keeping minimum host shutdowns and low time complexity in heterogeneous environment. Specifically, the proposed approach consists of four methods which include: BPSO meta-heuristic-based load balancing to impact on energy consumption and number of host shutdowns, overloading host detection and VM placement-based Pearson correlation coefficient to impact on SLA, and VM selection based on imbalance degree to impact on number of VM migration. Moreover, Pearson correlation coefficient and imbalance degree correlate CPU, RAM and bandwidth, respectively, in each host and each VM. Through extensive analysis and simulation experiments using real PlanetLab and random workloads, the performance results demonstrate that the proposed approach exhibits excellent results for the NP-problem.