23-09-2021 | Production Management | Issue 1/2022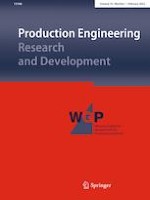 An joint decision of production and maintenance plan (Q, N) for a two-stage deteriorating JIT production system with random breakdowns
Journal:
Authors:

Xiao Shao, Zhixiang Chen, Bhaba R. Sarker
Important notes
Publisher's Note
Springer Nature remains neutral with regard to jurisdictional claims in published maps and institutional affiliations.
Abstract
In this paper, we consider a joint decision-making issue of production and maintenance plan with imperfect and perfect maintenance actions for two-stage deteriorating JIT (Just-in-time) production systems with random breakdowns. The risk cost caused by random breakdowns of each stage and the perfect maintenance cost are analyzed. The expected production duration is also worked out. A (Q, N) policy is then proposed based on probability theory and an optimization model is established to find the optimal batch size Q* and optimal number of production batches, N*. Sensitivities of different system parameters are analyzed, the results indicate that the proposed policy and the model are feasible and effective, it has good flexibility in application environment. Some managerial implications for practitioners are summarized. One of the important implications is that managers should preferentially improve the production rate of downstream subsystem rather than upstream subsystem to reduce cost and increase efficiency.