Published in: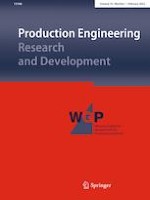 Open Access 07-09-2021 | Quality Assurance
Improving quality prediction in radial-axial ring rolling using a semi-supervised approach and generative adversarial networks for synthetic data generation
Published in: Production Engineering | Issue 1/2022
Abstract
As artificial intelligence and especially machine learning gained a lot of attention during the last few years, methods and models have been improving and are becoming easily applicable. This possibility was used to develop a quality prediction system using supervised machine learning methods in form of time series classification models to predict ovality in radial-axial ring rolling. Different preprocessing steps and model implementations have been used to improve quality prediction. A semi-supervised approach is used to improve the prediction and analyze, to what extend it can improve current research in machine learning for quality prediciton. Moreover, first research steps are taken towards a synthetic data generation within the radial-axial ring rolling domain using generative adversarial networks.
Publisher's Note
Springer Nature remains neutral with regard to jurisdictional claims in published maps and institutional affiliations.
ACGAN
Auxiliary classifier generative adversarial network
BOSS
Bag of symbolic-Fourier-approximation-symbols
CGAN
Conditional generative adversarial network
COTE
Collective of transformation-based ensembles
DCGAN
Deep convolutional generative adversarial network
ECTS
Early classification on time series
GAN
Generative adversarial networks
HIVE-COTE
Hierarchical vote collective of transformation-based ensembles for time series classification
LSTM-FCN
Long short-term memory fully convolutional network
RARR
Radial-axial ring rolling
ROCKET
Random convolutional Kernels
TRTS
Train-real-test-synthetic
TSC
Time series classification
TSTR
Train-synthetic-test-real
1

Introduction

The presented research at hand is building on earlier studies of the authors. These studies introduced a quality prediction approach in the domain of Radial-Axial Ring Rolling (RARR) with regard to form errors and especially ovality [

1

]. Moreover, this approach was enhanced by a domain specific preprocessing approach [

2

] and an evaluation on the best performing model for a Time Series Classification (TSC) task was performed [

3

]. Additionally, the authors shifted the problem definition from a TSC task into an Early Classification on Time Series (ECTS) task in their most recent work that is accepted for publication as well. This ECTS approach now enables not only prediction but also prevention of form defects and can thus further improve the process of RARR. This research, especially the early classification approach, showed promising results, but the model performance still has potential to be optimized. For this refinement, two approaches are presented in this research, focusing on two different aspects:
using unlabeled data in combination with labeled data

generating synthetic data using generative models
These approaches try to address the main difficulty the authors had to face during their extensive work within the domain and are prominent throughout all machine learning fields: labeled data acquisition. As further detailed in section
3.1
, the underlying data set consists of different rollings of an industrial rolling machine at
thyssenkrupp rothe erde Germany GmbH
. Different blank geometries as well as a wide variety of rolled height to wall-thickness ratios are present. For each ring there is an individual measurement using a line laser unit. Each ring's outer shape is measured and thus a target for each rolled ring regarding form errors is produced. Yet the laser unit is costly and requires constant maintenance hence it is not running all the time, but unlabeled data is produced automatically and is therefore acquired by the authors as well. This unlabeled data will be used within the semi-supervised approach to improve classification accuracies on the baseline TSC approach. Nonetheless, the authors establish a first attempt at synthetic data generation for different process data channels. Within this generation, the authors conducted an expert interview with process experts to further improve the generation task.
To recap, our contributions are:
Enhancing ML in RAW using Semi-Supervised Learning (SSL)(self-training) from the real world production plant

Using Generative Adversarial Networks (GANs) to increase the data sets even further with synthethic data sets
Both approaches are depicted in Fig.
1
in the middle part of the figure enhancing the baseline TSC approach.
×
2

Related work

The following section briefly discusses current trends and the state of the art applications regarding RARR, quality prediction, as well as the machine learning topics of time series classification, semi-supervised approaches and generative adversarial networks. The discussion starts with the following section about RARR, as it is the used domain of interest for the proposed approach within this research.
3

Baseline quality prediction approach

In order to increase productivity and to ensure a constant competitiveness of RARR, the following section describes the concrete implementation to reduce quality-related costs and rework.
3.1

Problem definition and data set

The machine learning problem is defined as a (semi-) supervised time series classification task. For a formal definition of TSC refer to [

15

] and for a domain specific RARR definition of the TSC task see [

2

]. All in all, the task is to predict whether a rolled sample lies within a defined threshold for ovality or not. The data set consists of 1256 samples of real world production data from

thyssenkrupp rothe erde Germany Gmbh

. On top of the 1256 labeled data samples with a measurement, there are 2414 samples without an explicit measurement, but from the same machine. This leads to a supervised data set of 1256 samples and a semi-supervised data set of 3670 (1256 real-labeled and 2414 pseudo-labeled) data samples.

For both data sets, the used features are identical. In sum, more than 100 features (i.e. forces, torques, geometric and control values, currents of motors etc.) are available. Yet only 50 of them are used as input features for the label prediction. This subset of features was elaborated in earlier research and led to the best performances regarding the classification accuracy for the detection of ovality in RARR. As for preprocessing, all data samples were scaled to a fixed length, as required by many approaches in TSC. To ensure the fixed length, a domain specific rolling phase scaling approach [

2

] is used to make individual rollings more comparable. The phase scaling approach is performed using statistical values derived from the data set. The phase scaling approach is a RARR domain specific approach. The rolling process consists of four idealized ring rolling phases and the phase scaling approach makes use of this. An overall mean length of the rolling phases was investigated and for every rolling, all four phases were linearly scaled separately so that there is a better comparison between all four phases. This results in four distinct phase lengths that all rollings are scaled to, producing equal length time series. All results are gathered using a five-fold stratified random shuffle split. Due to a non-disclosure agreement, the data set must not be made available to the public. The data set is not perfectly balanced, meaning that there is no perfect 50/50 split between oval and non-oval samples. This is due to the internally set and machine related threshold regarding ovality to constantly increase the ring quality. The split is roughly 54/46, which means that a naive classifiers accuracy should be about 54 % accuracy and has not yet learned to discriminate the underlying information correctly.
4

Experiment section

For an implementation into a fully-automated production line in a real industrial setting as a substitution for a costly measurement unit, prediction accuracy should be increased. This is researched using the approach described below, which is a semi-supervised approach and thus making use of the initial 1256 labeled data samples as well as the 2414 unlabeled data samples.
5

Conclusion

Within the present research work, on the one hand, an approach to improve time series classification by means of a semi-supervised machine learning approach was pursued, while simultaneously evaluating the usability of a future extension of this approach by synthetically generating data using GANs. The results of the SSL approach show improvements with respect to the baseline TSC approach and may help to further improve prediction accuracy. The approach of synthetic data generation using a CGAN architecture already led to partially useful results, which have been evaluated by both human process experts as well as by TSTR and TRST metrics. Within the present use case of RARR, it can be stated that for a generation of synthethic data, the CGAN architecture performed significantly better than the ACGAN architecture.The hoped-for stabilization of the training process, which was expected from the ACGAN architecture in contrast to the CGAN architecture, did not occur in the case of the RARR. At the current state, it is not known why the CGAN architecture provides the better results and this will be pursued in future work. The possibility of the CGAN architecture to output the class label directly is of great value for the productive integration into a system for quality prediction or even fault-prevention. This generated data could be additionally used in the semi-supervised approach shown to further enhance the increase in accuracy provided by the SSL approach and potentially integrate its own form of noise.

In the course of further research in this area, the presented first approaches will be further improved and prepared for conductive use as the ability to produce high amounts of new and in the case of CGANs labeled data is of high interest to further improve the process efficiency by using bigger data sets. Moreover, it is an interesting field of research to explore the latent space for the domain of RARR further as it was done before with image data. A better understanding of the latent space could lead to a data generation for specific parameters such as material or rolled and preform geometry. Further research fields in the future could be the applicability and generalizability of the approaches to a wide variety of rolling mills and even different processes very similar to RARR, such as cold rolling.
Acknowledgements
This research work was funded by the
German Research Foundation (DFG)
within the research project "Fehlervermeidung in Radial-Axial Ringwalzprozessen durch Online-Analyse der Zustandsdaten" (KU 1543/20-1, project number 404517758). The authors thank the DFG for promoting and facilitating the research. Moreover, the authors would like to thank
thyssenkrupp rothe erde Germany GmbH
for their support and the possibility of data acquisition at their production plant. Moreover, the authors would like to thank all process experts for their participation and their kind feedback.
Open Access
This article is licensed under a Creative Commons Attribution 4.0 International License, which permits use, sharing, adaptation, distribution and reproduction in any medium or format, as long as you give appropriate credit to the original author(s) and the source, provide a link to the Creative Commons licence, and indicate if changes were made. The images or other third party material in this article are included in the article's Creative Commons licence, unless indicated otherwise in a credit line to the material. If material is not included in the article's Creative Commons licence and your intended use is not permitted by statutory regulation or exceeds the permitted use, you will need to obtain permission directly from the copyright holder. To view a copy of this licence, visit
http://​creativecommons.​org/​licenses/​by/​4.​0/​
.
Publisher's Note
Springer Nature remains neutral with regard to jurisdictional claims in published maps and institutional affiliations.