Published in: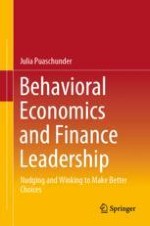 2020 | OriginalPaper | Chapter
1. Behavioral Economics
Abstract
Since the end of the 1970s, a wide range of psychological, economic, and sociological laboratory and field experiments proved human beings deviating from rational choices. Standard neoclassical profit maximization axioms were outlined to fail to explain how humans actually behave. Human beings were rather found to use heuristics in day-to-day decision-making. These mental shortcuts enable us to cope with information overload in a complex world. Behavioral economists proposed to nudge and wink citizens to make better choices with many different applications in very many different domains. This book will (1) start with a review of the contemporary literature on human decision-making failures in Europe and North America presenting the wide range of nudges and winks developed to curb harmful consequences of humane decision-making fallibility; then (2) propose how to use mental heuristics, biases, and nudges in the finance domain to profit from economic markets providing clear communication strategies; and then (3) finish with clear leadership and followership directives on nudging in the digital age.