01-06-2014 | Original Article | Issue 2/2014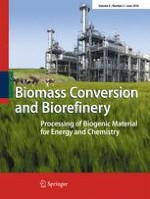 Characterization of lignocellulosic residues of henequen and their use as a bio-oil source
Journal:
Authors:

Flor V. Fonseca-Prieto, Gonzalo Canché-Escamilla, Juan C. Chavarria-Hernandez, Santiago Duarte-Aranda
Abstract
Henequen (
Agave fourcroydes
Lem) is an endemic plant of southeastern Mexico traditionally exploited for the extraction of its fibers. After the henequen harvest cycle, most stems and flower stalks are just left on the field without any further utilization. The aim of this work was to evaluate these lignocellulosic residues as a biomass feedstock for the production of bio-oil using a tubular furnace to perform pyrolysis. Experiments were carried out at temperatures from 450 to 600 °C, using a residence time of 60 min and a heating rate of 10 °C min
−1
. The henequen lignocellulosic material was divided in three parts: green stem, dry stem, and stalk. Each sample was characterized by means of chemical composition analysis, Fourier transform infrared spectroscopy, scanning electron microscopy, thermogravimetric analysis, extractive content, and bio-oil yield. The highest yield of bio-oil (50.33 ± 0.06 wt%), the highest content of cellulose (29.55 wt%), and the highest content of extractives (25.59 wt%) were measured for the green stem sample. This result is consistent with previous reported works indicating a proportional relationship among the three variables. Chemical composition of bio-oils was analyzed by gas chromatography coupled to mass spectrometry (GC-MS). GC-MS results indicated that all the samples were rich in phenolic compounds among which phenol 2-6-dimethoxy was the most abundant. Quinazoline-4-carboxylic acid, a chemical with high potential value for the synthesis of pharmaceuticals, agrochemicals, and veterinary products, represented 61 wt% of bio-oil from dry stem.