24-10-2020 | Issue 1/2021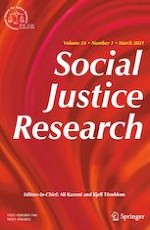 Confirmatory Factor and Smallest Space Analyses on the Belief in a Just World Scale
Journal:
Authors:

Warren G. Harding, V. K. Kumar, Jasmin Tahmaseb McConatha
Important notes
Publisher's Note
Springer Nature remains neutral with regard to jurisdictional claims in published maps and institutional affiliations.
Abstract
A confirmatory factor analysis (CFA) was used on the Belief in a Just World Scale (BJW; Lucas, Zhdanova & Alexander in J Individ Diff 32:14–25, 2011) to test the replicability of its four-scale structure. Additionally, Guttman's Smallest Space Analysis (SSA) was used to test the presence of two facets with each consisting of two elements: Type of Justice (Distributive and Procedural) and Locus of Attributions (Justice Beliefs for Self and Justice Beliefs for Others) in the BJW scale. Participants (
n
 = 301) were university students and community members (recruited through local church and social media). The CFA revealed marginally acceptable support for the four-factor structure of the BJW. As hypothesized, the SSA provided evidence for the presence of two facets with two elements each as stated above. Consistent with earlier findings of Lucas et al. (J Individ Diff 32:14–25, 2011) and Lucas et al. (Political Psychol 35:775–793, 2014), the BJW subscales had positive significant correlations with each other and evidenced strong internal consistency reliabilities.