01-09-2014 | Issue 18/2014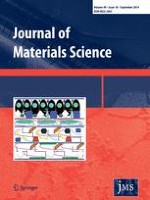 Enhanced photovoltaic performance of solar cell based on front-side illuminated CdSe/CdS double-sensitized TiO2 nanotube arrays electrode
Journal:
Authors:

Zhen Li, Libo Yu, Yingbo Liu, Shuqing Sun
Important notes
Electronic supplementary material
The online version of this article (doi:
10.​1007/​s10853-014-8366-1
) contains supplementary material, which is available to authorized users.
Abstract
Free-standing TiO2 nanotube (NT) arrays have been prepared by a two-step anodization method. These translucent TiO2 NT arrays can be transferred to the fluorine-doped tin oxide glass substrates to form front-side illuminated TiO2 NT electrodes. The TiO2 NT electrodes were double-sensitized by CdSe/CdS quantum dots (QDs) through successive ionic layer adsorption and reaction (SILAR) process. The absorption range of the TiO2 NT electrode was extended from ~380 to 700 nm after sensitization with CdSe/CdS QDs. The SILAR cycles were investigated to find out the best combination of CdS and CdSe QDs for photovoltaic performance. The power conversion efficiency of 2.42 % was achieved by the CdSe(10)/CdS(8)/TiO2 NT solar cell. A further improved efficiency of 2.57 % was obtained with two cycles of ZnS overlayer on the CdSe(10)/CdS(8)/TiO2 NT electrode, which is 45.19 % higher than that of back-side illuminated solar cell. Furthermore, the ZnS(2)/CdSe(10)/CdS(8)/TiO2 NT solar cell possesses a higher stability than CdSe(10)/CdS(8)/TiO2 NT solar cell during the same period. The better photovoltaic performance of the ZnS(2)/CdSe(10)/CdS(8)/TiO2 NT solar cell has demonstrated the promising value to design quantum dots-sensitized solar cells with double-sensitized front-side illuminated TiO2 NT arrays strategy.