20-10-2016 | Batteries and Supercapacitors | Issue 7/2017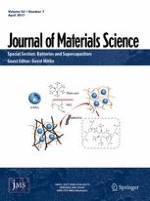 Facile synthesis SnO2 nanoparticle-modified Ti3C2 MXene nanocomposites for enhanced lithium storage application
Journal:
Authors:

Fen Wang, Zijing Wang, Jianfeng Zhu, Haibo Yang, Xianjin Chen, Lei Wang, Chenhui Yang
Important notes
Fen Wang, Zijing Wang, Jianfeng Zhu, Haibo Yang, Xianjin Chen, and Lei Wang contributed equally to this work.
Abstract
SnO2 nanoparticle-modified Ti3C2 MXene (SnO2–Ti3C2) nanocomposites have been synthesized via hydrothermal method and subsequently used as anode material for lithium-ion batteries (LIBs) with enhanced electrochemical performance. The results of the microstructure analysis indicate that the introduction of SnO2 nanoparticles enlarged the d-spacing of Ti3C2 layers and increased the Li+ storage. Meanwhile, SnO2 nanoparticles improve the electrochemical performance based on the alloying mechanism. Electrochemical results reveal that SnO2–Ti3C2 nanocomposites can greatly improve the reversible capacity compared with pure Ti3C2Tx particles. Remarkably, SnO2–Ti3C2 nanocomposites show outstanding initial capacity of 1030.1 mAh g−1 at 100 mA g−1, and the capacity can remain about 360 mAh g−1 after 200 cycles. The SnO2–Ti3C2 nanocomposites demonstrate a stable cycle performance and high reversible capacity for lithium storage.