08-11-2019 | LINEAR AND ANGULAR MEASUREMENTS | Issue 5/2019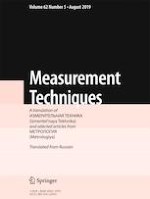 Features of Operational Control of Precision Angle-Measuring Structures
Journal:
Authors:

A. V. Kir'yanov, A. A. Zotov, A. G. Karakotskii, V. P. Kir'yanov, A. D. Petukhov, V. V. Chukanov
Important notes
Translated from Izmeritel'naya Tekhnika, No. 5, pp. 31–35, May, 2019.
The most important sources of errors originating in monitoring angle-measurement structures (scales, circular scales, code disks) are obtained from within the reading systems of measurement devices. Prospects for using the differential method of measuring metrological parameters of angle-measurement structures are shown in the case of production real-time monitoring.