11-10-2021 | Issue 4/2021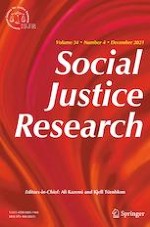 Framing Perceptions of Justice in a Public Goods Dilemma
Journal:
Authors:

Hatice Atilgan, Barry Markovsky
Important notes
Publisher's Note
Springer Nature remains neutral with regard to jurisdictional claims in published maps and institutional affiliations.
Abstract
In a
social dilemma,
group members have equal access to collective resources, but each must decide between acting in self-interested or collectively interested ways when considering their contribution to the group. Our research focused on how the perceived fairness of contributions and outcomes affects these decisions. We report on an experiment that manipulated two factors related to fairness:
dilemma-framing
that emphasized either individual or collective gains
,
and whether the
partner's relative contribution
was high, low, or equal to the subject's. Also, subjects'
social value orientations
—individualist vs. prosocial—were balanced across conditions. Subjects made two rounds of contribution decisions and received feedback on their outcomes after each. As hypothesized for first-round contributions, prosocials contributed more to public goods and framing had no discernable effect. In the second round, neither social value orientation nor framing influenced participants' fairness evaluations when partners made a low initial contribution to the group, but dilemma-framing affected participants' fairness evaluations when the partner made a high contribution to the group. Importantly, results generally supported key hypotheses for participants' attempts to rectify injustices via subsequent contributions and bonus sharing. Partner's contributions, social value orientation, and dilemma-framing all affected redistributive behaviors.