Published in: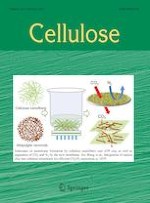 23-01-2022 | Original Research
Gamma-ray and sunlight-induced synthesis of silver nanoparticles using bacterial cellulose and cell-free filtrate produced by
Komagataeibacter rhaeticus

N1 MW322708 strain

Published in: Cellulose | Issue 3/2022

Login to get access
Abstract
Antibacterial coatings based on bacterial cellulose (BC) have been widely used in many fields including food packaging and wound dressing. In this study, we aimed to synthesis of colloidal AgNPs and BC/ AgNP composite by using two green, facile methods, the first one by using BC produced by
K. rhaeticus
N1 MW322708 as a reducing agent in one step reaction induced by gamma-ray. The second approach was achieved by using
K. rhaeticus
N1 MW322708 cell-free filtrate (CFF) as a reducing agent under the induction action of sunlight. The optical spectra of synthesized AgNPs revealed that the surface Plasmon resonance was localized around 420 and 415 nm for method 1 and method 2, respectively. DLS analysis showed that the Z-Average (nm) of synthesized AgNPs was 42.23 and 36.36 nm for method 1 and method 2 respectively, while the zeta potential was − 27.7 and − 32.7 mV for the first and second method, respectively. TEM images revealed the spherical shape of synthesized AgNPs for two methods. The results of FESEM, FTIR, and XRD confirmed the formation of BC/AgNP composite for two methods. BC/AgNP composite (1 and 2) and AgNPs produced by the two methods, exhibited antibacterial potency against both Gram-positive and Gram-negative bacteria. We concluded that the two green, non-toxic, economical, and novel two methods presented in this paper offer promising routes for both AgNPs and BC/AgNP composite synthesis and have the potential to be applied in the future development of food packing, biomedical instruments, and therapeutics.
Graphical abstract
×