2000 | OriginalPaper | Chapter
How Can Retailers Respond?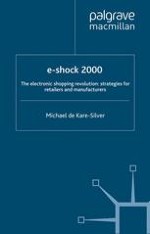 Read first chapter
Author: Michael de Kare-Silver
Publisher: Palgrave Macmillan UK
The ES test will demonstrate the potential for a product or service to be sold on-line. It will help identify likely levels of demand and market size. It can be repeated regularly to watch for trends and other changes in people's readiness to buy electronically. It establishes a framework for determining right now whether and how best to respond.