22-01-2019 | Issue 1/2019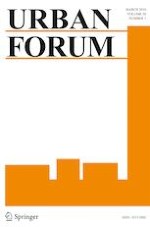 In with the New and Out with the Old? Industrial Estates and the Prospects of Manufacturing in Durban, South Africa
Journal:
Authors:

Glen Robbins, Myriam Velia
Important notes
Publisher's Note
Springer Nature remains neutral with regard to jurisdictional claims in published maps and institutional affiliations.
Abstract
In cities where manufacturing has historically thrived, considerable local attention has been given to the development of areas of land for industrial estates. These estates or industrial areas have served the needs of manufacturing businesses in enabling them to be near suppliers, customers, labour and even competitors. Yet, as much of the world has transitioned away from established forms of mass production, and as the influences of globalised value chains in production have escalated, challenges for mature industrial estates have increased whilst demand for greenfield land development opportunities has grown. With the transformation of industrial estates rarely noted in various local urban policy formulations, and only occasionally considered in national policy, questions arise of how to best attend to the varied needs of mature industrial areas, including those experiencing decline and urban decay. In South Africa, despite a strong industrialisation focus, these issues have hardly featured in debates on the development and character of cities and towns, other than as one of the features of apartheid urban geography. In an effort to cast more light on these processes, the paper seeks to establish what manufacturing firms report as advantages and disadvantages of the places in which they operate and how these might vary between more centrally located, older industrial areas and more peripherally located, generally newer estates. Furthermore, the paper seeks to better understand the relationship between these locational reflections and firm performance with regard to investment and employment. The research informing the paper has drawn primarily on a research survey into medium and large manufacturing employers in eThekwini Municipality (Durban, South Africa), supplemented by additional research on industrial areas in the metropolitan area. The paper finds that levels of dissatisfaction with the business environments more generally, and locational factors in particular, in both established and newer industrial areas or estates, are given some emphasis by firms in explaining the curtailing of past, present and intended investment and employment choices in those same locations. The research further notes the absence of coherent local and national frameworks for responding to deindustrialisation pressures linked to operational and investment environment experienced by firms and discusses some of the related implications for both local and national policymakers.