Published in: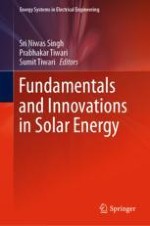 2021 | OriginalPaper | Chapter
1. Introduction to Solar Energy
Abstract
The sun is an ultimate source of energy, and all available forms of energies on earth, directly or indirectly, depend on it. It is a sphere of very hot gaseous substance having diameter of 1.39 × 10
9
m with an average distance of 1.5 × 10
11
m from the earth. The sun has temperature (
T
s
) of 5777 K, and this temperature is maintained due to uninterrupted fusion reaction. Several fusion reactions have been proposed for production of the energy emitted by the sun; the most important being the one in which four photons of hydrogen unite to make helium (i.e., helium nucleus). The helium nucleus has less mass compared to four protons, which is converted to energy.