Published in: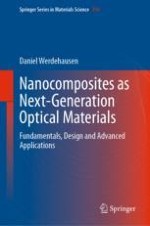 2021 | OriginalPaper | Chapter
1. Introduction
Abstract
In this chapter, I give an introduction into the research fields of nanostructured optical materials and provide the key research questions around which this book is structured. These research questions are:
1)
Can nanocomposites be used as bulk optical materials? And, if so, how must they be designed? In addition, what are the fundamental limits of the concept of an effective refractive index?
2)
What is the potential of nanocomposites as optical materials? More specifically, what properties can be achieved? And are effective medium theories accurate tools that can predict their properties?
3)
Do nanocomposites allow for the design of highly efficient diffractive optical elements for broadband applications? And, if so, are such devices suitable for high-numerical-aperture imaging systems? In addition, can general concepts for how broadband diffractive optical elements must be designed be developed?
4)
Can nanocomposites provide significant benefits for optical systems that outweigh their increased complexity? And, if so, what are potential applications?