01-08-2012 | NANOMETROLOGY | Issue 5/2012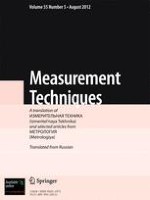 Measurement of the linear dimensions of nanorelief elements with a trapezoidal profile by defocusing the electron beam of a scanning electron microscope
Journal:
Authors:

V. P. Gavrilenko, A. Yu. Kuzin, Yu. V. Larionov, V. B. Mityukhlyaev, A. V. Rakov, P. A. Todua, M. N. Filippov
Important notes
Translated from Izmeritel'naya Tekhnika, No. 5, pp. 19–21, May, 2012.
It is shown experimentally that it is possible to use a method of measuring the geometrical dimensions of nanorelief elements, based on defocusing of the electron beam of a scanning electron microscope, in order to measure the upper base of a trapezoidal protuberance with a width close to the beam diameter.