21-05-2020 | Original Research Paper | Issue 3/2020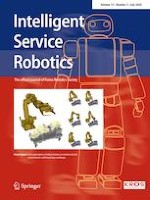 Optimal configuration selection for stiffness identification of 7-Dof collaborative robots
Journal:
Authors:

Mingwei Hu, Hongguang Wang, Xinan Pan
Important notes
Publisher's Note
Springer Nature remains neutral with regard to jurisdictional claims in published maps and institutional affiliations.
Abstract
Aimed to improve the stiffness identification precision of 7-degree-of-freedom (Dof) collaborative robots (Cobots), an optimal configuration selection method for elastostatic calibration of robots is researched by the influencing factor separation method. Different from previous studies, this method can deal with the influence of redundant Dof on measurement configuration selection of redundant robotic manipulators. The independent influence of each joint on the inverse condition number which is selected as the evaluation criterion is analyzed through the orthogonal design experiment and the analysis of variance, and the optimal measuring configurations of robots for stiffness identification can be selected from joint space. Based on a 7-Dof Cobot SHIR5-III, static compliance simulations are performed to identify joint stiffness of the robot. Compared to identification results by using the configurations having large, medium and small inverse condition number, the effectiveness of this optimal configuration selection method is verified and the identification accuracy can be essentially improved with configurations having a large inverse condition number.