17-07-2020 | Global Society | Issue 4/2020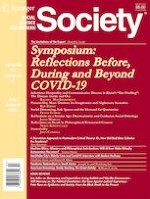 Pandemic Nationalism in South Korea
Journal:
Authors:

Joseph Yi, Wondong Lee
Important notes
Publisher's Note
Springer Nature remains neutral with regard to jurisdictional claims in published maps and institutional affiliations.
Abstract
As in much of the world, the Coronovirus pandemic has dominated South Korean politics in 2020. Compared to other countries, Seoul's approach has been highly nationalist and politicized, as the ruling party lauded its pandemic response as the global standard and linked it to a larger, leftist-nationalist agenda. This "pandemic-leftist" discourse peaked around the April 15 midterm elections, but subsided the following month, as domestic and foreign setbacks arose. To explain, firstly, a competitive-nationalist race to flatten the infection curve encouraged the government to infringe on the civil liberties of infected patients, and society to stigmatize them. Other countries contained Covid-19 without such rights violations and stigma. Secondly, critics distinguished between the government's relative success in pandemic response and its general failures in economic and foreign policies. Instead of asking other countries to learn from one's country, each country would do well to learn from the experiences of others and to continually improve its own policies.