30-01-2020 | Original | Issue 2/2020 Open Access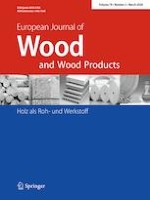 Suitability of analytical methods to determine tebuconazole, propiconazole and permethrin in aged wood samples
Authors:

Ute Schoknecht, Petra Drescher, Martin Fischer, Christina Fürhapper, Jan Gunschera, Rainer Hill, Eckhard Melcher, Robby Wegner, Ursula Wilken, Joachim Wittenzellner
Important notes
Electronic supplementary material
Publisher's Note
Springer Nature remains neutral with regard to jurisdictional claims in published maps and institutional affiliations.
1

Introduction

Chromatographic methods are commonly applied to determine the contents of organic wood preservative components (active substances) in treated wood. The analytical procedures are usually developed and validated using fresh samples of wood that have been doped with a defined amount of the target compounds.

However, this practice cannot indicate changes in recovery rates and precision of the methods that could potentially be caused by chemical changes in the wood during its service life. Indeed, analytical laboratories very often get samples of wood that has been in service in order to investigate, for example, the correct treatment of wood regarding the achieved penetration and retention.

Three active substances, i.e., permethrin, propiconazole and tebuconazole (see Fig.

1

for chemical structures), were selected to study the suitability of commonly applied analytical methods for the analysis of aged wood. These active substances were approved for marketing in wood preservatives according to the European regulations [Biocidal Products Directive (BPD, Directive 98/8/EC

1998

), replaced by Biocidal Products Regulation (BPR, Regulation (EU) No. 528

2012

). Permethrin acts as an insecticide, and propiconazole and tebuconazole are widespread fungicides in currently produced wood preservatives. The assessment reports for permethrin (European Chemicals Agency

2014

), for propiconazole (European Chemicals Agency

2007a

) and for tebuconazole (European Chemicals Agency

2007b

) list gas chromatography using flame ionization detector (GC-FID) as suitable technique to analyze these active substances in traded formulations. Gas chromatography coupled to mass spectrometry (GC–MS), electron capture detector (GC-ECD), nitrogen/phosphorus detector (GC-NPD) and high performance liquid chromatography coupled to UV detector (HPLC–UV) or mass detectors (HPLC–MS/MS) are listed as methods to analyze residues of at least one of these active substances in soil, air and water. A standardized liquid chromatography tandem mass spectrometry (LC–MS/MS) method (EN 15637

2008

) is available for the analysis of pesticide residues in foods of plant origin.
×
Interlaboratory studies between European laboratories using GC- and HPLC-methods to analyze propiconazole in treated wood were initiated by CEN/TC 38 'Durability of wood and wood-based products'. The methods proved to be suitable and were reported as CEN/TR 16420 (
2012
). Standard methods for the determination of propiconazole, tebuconazole and permethrin are provided by the American Wood-Preservers' Association (A28-14, A42-14, A48-15; AWPA
2018a
,
b
,
c
). Results of an interlaboratory study of several German and Austrian laboratories on the determination of permethrin in wood were published by Schoknecht et al. (
2008
). The applied methods are provided on the website of the 'RAL-Gütegemeinschaft: Imprägnierte Holzbauelemente e.V.' (
2012a
,
b
,
2013a
,
b
).
HPLC methods can also be applied to analyze active substances in wood preservative formulations as described by Hill (
2012
). Mauruschat et al. (
2014
) applied gas chromatography coupled to field asymmetric ion mobility spectrometry (GC-FAIMS) for fast detection of organic active substances in recovered wood. Miyauchi et al. (
2005
) applied solid-phase extraction to remove wood extractives from different conifer species that co-eluted with cyproconazole and tebuconazole. A detailed description of the method development for a GC–MS method to analyze tebuconazole, propiconazole, 3-iodo-propynyl butylcarbamate and permethrin in commercially treated wood was published by Šťávová et al. (
2011
).
However, there is a lack of knowledge of the suitability of these methods to precisely quantify these substances in aged wood. First experiences from an interlaboratory comparison between ten laboratories are reported in this article. Analytical methods that are regularly applied in these laboratories were used to quantify the selected active substances in treated wood. Subsamples of three differently aged wood samples were distributed and analyzed in parallel by HPLC–UV, HPLC–MS, GC-FID, GC-ECD and/or GC–MS. Particular attention was paid to possible matrix effects.
2

Materials and methods
2.1

Wood samples

Samples A and B belong to the same batch of treated pine sapwood [samples of 50 × 5 × 2.5 cm 3 treated by vacuum impregnation with a waterborne wood preservative (water-dilutable concentrate)]. Original amounts of tebuconazole and propiconazole were calculated from the retention of the wood preservative and concentrations of the active substances in the preservative formulation to be 160 mg kg −1 (each).

Sample A was stored for 8 years at room temperature in a dark room (cellar), whereas sample B was exposed to soil contact under natural weathering conditions for 6 years, and then stored under the same conditions for another two years in the same way as sample A.

Sample C originated from a board of pine sapwood that was vacuum-impregnated with a water-borne wood preservative (water-dilutable concentrate) containing propiconazole, tebuconazole and permethrin. Original concentrations were calculated to be 80 mg kg −1 both for propiconazole and tebuconazole and 140 mg kg −1 for permethrin. Sample C was stored at room temperature in the dark for 1.5 years. All samples were pre-crushed by a shredder and then milled by a cutting mill (SM 2000, Retsch) without cooling to grain size < 1 mm (sample A and B) and blades with two dimensions < 1 mm (sample C) before distribution to the participants.

A sample of freshly milled, 1–2 year-old untreated pine sapwood was provided by one participant (matrix A). A second sample of untreated wood originated from an interlaboratory study that was performed in 2004 (matrix B). Subsamples of matrix B have been stored in several laboratories in the dark at room temperature and were distributed to all participants.

For comparison, analysis was also performed on spruce samples that were analyzed during former interlaboratory studies and have been stored at room temperature in the dark for up to 13 years.
2.2

Sample preparation

The milled wood samples were extracted by each participant. In general, 20 ml of methanol was added to 1 g of wood and sonicated for 2 h at a temperature not exceeding 50 °C. 10 ml methanol was added to 1 g of wood in two laboratories. The extracts were filtered through PTFE and directly injected. Methanol was used for dilution if necessary. Extraction conditions applied in the different laboratories are presented in Table S2 (in Electronic Supplementary Material).
2.3

Analytical methods

Different types of reversed-phase columns from different suppliers were used to separate substances by HPLC and UHPLC (ultra high performance liquid chromatography). Gradient elution was performed by different mixtures of eluents at room temperature, 35 or 40 °C, respectively. The duration of the methods varied between 5 and 40 min. Usually, diode array detectors were applied to determine the analytes. Detection wavelengths for propiconazole and tebuconazole were either 210, 223 or 225 nm. Permethrin was detected at 210, 215, 223 or 225 nm. In one laboratory, quantification was performed by a single quadrupole mass spectrometer (LC–MS). The following signals were used for quantification:

m/z

342 for propiconazole,

m/z

308 for tebuconazole, and

m/z

245 for permethrin.

Gas chromatography was performed on hydrophobic stationary phases in different columns. Samples were diluted in methanol (toluene in one laboratory) if necessary and injected either in split or splitless mode. The duration of the methods ranged between 11 and 28 min.

Electron capture detection was applied to quantify propiconazole and permethrin (in one laboratory also tebuconazole), whereas tebuconazole was quantified by flame ionization detection in other laboratories. All three analytes were quantified by mass spectrometry (electron ionization). Detected masses were

m/z

259 for propiconazole (

m/z

261, 173 or 179 as qualifiers),

m/z

250 for tebuconazole (

m/z

125, 252 or 163 as qualifiers) and

m/z

183 for permethrin (

m/z

163 and 165 as qualifiers). The applied columns and temperature programs are presented in Table S4. Mass spectra are presented in Figure S1 (in Electronic Supplementary Material).

External calibration was applied to HPLC as well as GC methods. Analytical standards for tebuconazole (CAS: 107534-96-3), propiconazole (CAS: 60207-90-1), and permethrin (CAS: 52645-53-1) were obtained, for example from Sigma-Aldrich and Dr. Ehrenstorfer. The standard substances were dissolved in methanol at concentrations between 0.05 and 25 mg l −1 depending on the sensitivity of the analytical method. For some experiments, the standard substances were also dissolved in methanolic extracts of the untreated samples from matrix A and matrix B (hereafter referred to as 'matrix calibration'). All analytical results are related to air-dried wood samples. Further details on LC and GC methods applied in the different laboratories are presented in Tables S3 and S4 (in Electronic Supplementary Material).
2.4

Series of experiments

Two series of experiments were performed. During the first series, propiconazole, tebuconazole and permethrin were quantified in the three aged wood samples by HPLC and GC methods that are commonly applied in the participating laboratories.

Altogether, six laboratories applied HPLC–UV, one laboratory applied UHPLC-UV, and one laboratory performed LC–MS analysis. Two laboratories applied GC–MS, four laboratories applied GC-ECD for propiconazole and permethrin, one laboratory applied GC-ECD to tebuconazole, and two laboratories applied GC-FID to tebuconazole. Analysis of sample C was repeated due to contradictory effects of matrix calibration on the results for tebuconazole and propiconazole from HPLC methods. Results from eight laboratories were compared for calibration based on analytical standards in methanol and matrix calibration using the two samples of untreated wood (freshly milled matrix A and matrix B from 2004).
4

Conclusion

In principle, the HPLC and GC methods that have been developed using fresh samples of wood with defined contents of analytes are suitable to determine propiconazole, tebuconazole and permethrin also in aged wood samples. However, recovery rates were observed to be lower for aged wood samples than earlier determined for newly prepared wood samples. More severe extraction conditions can be required if parts of the active substances are strongly bound in treated wood.

Special attention is required for interfering signals if HPLC–UV methods are applied. One option to improve accuracy of HPLC–UV methods—besides application of specific detectors and clean-up by solid phase extraction—is to optimize the eluting gradient to avoid interfering signals. Matrix calibration cannot be recommended for HPLC–UV-analysis. Usually, the untreated wood sample does not originate from the same source as the wood sample that has to be analyzed for preservatives. Wood samples of different origin can cause different interfering signals.

Comparison of HPLC–UV data with results from alternative analytical methods, i.e. either GC- or LC–MS-procedures, can be considered if analytical results are close to limit values for decisions whether specified values are met.

Generally, it is recommended to check recovery rates for any of the applied methods by parallel analysis of wood samples with defined content of the analytes to ensure current suitability of the used equipment for the required analysis.
Acknowledgements
Open Access funding provided by Projekt DEAL. We would like to thank RAL and in particular the "Gütegemeinschaft: Imprägnierte Holzbauelemente e. V." for the opportunity to carry out the tests under their roof and to publish the validated analytical methods via their online platform.
Compliance with ethical standards
Conflict of interest
The authors declare that they have no conflict of interest.
Open Access
This article is licensed under a Creative Commons Attribution 4.0 International License, which permits use, sharing, adaptation, distribution and reproduction in any medium or format, as long as you give appropriate credit to the original author(s) and the source, provide a link to the Creative Commons licence, and indicate if changes were made. The images or other third party material in this article are included in the article's Creative Commons licence, unless indicated otherwise in a credit line to the material. If material is not included in the article's Creative Commons licence and your intended use is not permitted by statutory regulation or exceeds the permitted use, you will need to obtain permission directly from the copyright holder. To view a copy of this licence, visit
http://​creativecommons.​org/​licenses/​by/​4.​0/​
.
Publisher's Note
Springer Nature remains neutral with regard to jurisdictional claims in published maps and institutional affiliations.