29-05-2019 | Issue 3/2020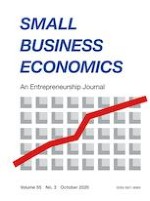 The effects of innovation on the decisions of exporting and/or importing in SMEs: empirical evidence in the case of Spain
Journal:
Authors:

Alfonso Exposito, Juan A. Sanchis-Llopis
Important notes
Publisher's note
Springer Nature remains neutral with regard to jurisdictional claims in published maps and institutional affiliations.
Abstract
This paper analyses the involvement of small firms in international trade activities by identifying the comprehensive impact of innovation. Specifically, we study how innovation introduced by these firms determines the entrepreneurial decision-making process regarding whether to engage in exporting and/or importing. Our results confirm the interrelation of firms' exporting and importing decisions and consequently, these two decisions should be jointly estimated when analysing the influence incurred by the introduction of alternative types of innovation (product, process, and organizational/managerial innovation) on said decisions. Furthermore, findings show complementarity between types of innovation to be relevant in explaining export and import decisions made by SMEs. Specifically, cumulative effects as a result of combining product and process innovation, as well as of product, process and organizational innovation, are highly significant in explaining export decisions, while in the case of imports, the combination of product and organizational innovation is shown to be significant. These findings lead to major policy and managerial implications regarding the promotion of SMEs' participation in international trade flows through alternative innovation strategies.