18-12-2018 | Review Essay | Issue 1/2019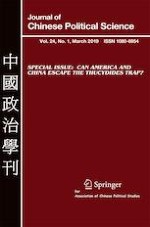 The Evolution of Chinese Administrative Studies: Where Is the Field of Chinese Administrative Science Headed?
Journal:
Authors:

King W. Chow, Zhihang Xu, Mingyue Wen
Abstract
Is Public Administration (PA) as a field of study a basic science? If not, could PA generally and Chinese PA (CPA) in particular become a basic science or a design science? To address these questions, this essay reviews pertinent literature to underscore the major problems, basic deficiencies, and critical issues of CPA, and then reviews ongoing CPA research to shed light on its future development. Our review shows that PA lacks an intellectual core that defines the nature of public administration as a professional practice, and in turn, the nature of PA as an academic discipline. Further, while CPA bears the same deficiencies, it also suffers from three maladies, namely, reductionism, traditionalism, and conservatism, which together reinforce mediocrity. In view of all these issues and problems, where CPA is headed? Our literature review reports some ongoing research breakthroughs in CPA, including ontological confirmation of public administration nature and identification of necessary conditions for effective administrative results, which form a basis to suggest that CPA may become a basic science and design science.