12-08-2016 | Issue 11/2016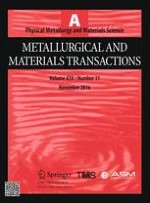 Two-Phase Master Sintering Curve for 17-4 PH Stainless Steel
Authors:

Im Doo Jung, Sangyul Ha, Seong Jin Park, Deborah C. Blaine, Ravi Bollina, Randall M. German
Important notes
Manuscript submitted June 10, 2015.
Abstract
The sintering behavior of 17-4 PH stainless steel has been efficiently characterized by a two-phase master sintering curve model (MSC). The activation energy for the sintering of gas-atomized and water-atomized 17-4 PH powders is derived using the mean residual method, and the relative density of both powders is well predicted by the two-phase MSC model. The average error between dilatometry data and MSC model has been reduced by 68 pct for gas-atomized powder and by 45 pct for water-atomized powder through the consideration of phase transformation of 17-4 PH in MSC model. The effect of
δ
-ferrite is considered in the two-phase MSC model, leading to excellent explanation of the sintering behavior for 17-4 PH stainless steel. The suggested model is useful in predicting the densification and phase change phenomenon during sintering of 17-4 PH stainless steel.