01-06-2015 | STATE STANDARDS | Issue 3/2015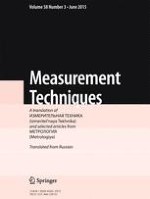 Updating the Secondary Standard for the Unit of Low Absolute Pressure VE-13–13
Journal:
Authors:

V. N. Gorobei, A. V. Talalai, A. A. Chernyshenko, Yu. T. Viktorko
Important notes
Translated from Izmeritel'naya Tekhnika, No. 3, pp. 3–6, March, 2015.
The development of a new secondary standard for low absolute pressures is discussed. A measurement chamber is built with a system for maintaining pressure employing modern technologies. The standard meets international standards in terms of its metrological and technical characteristics.