09-07-2019 | Focus | Issue 19/2019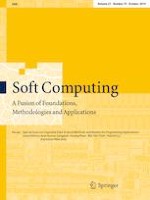 Wearable devices for health-related quality of life evaluation
Journal:
Authors:

Adriano Tramontano, Mario Scala, Mario Magliulo
Important notes
Communicated by A. K. Sangaiah, H. Pham, M.-Y. Chen, H. Lu, F. Mercaldo.
Publisher's Note
Springer Nature remains neutral with regard to jurisdictional claims in published maps and institutional affiliations.
Abstract
Medical and biomedical research fields are paying even closer attention to the health-related quality of life (HRQoL). Furthermore, having a precise snapshot of a subject's daily life and of the related vital parameters (heart rate, ECG pattern, movement, sleeping habits, etc.) helps medical and social structures having a precise scenario of the elders. HRQoL is largely assessed by means of patient-reported outcomes (PROs), a flawed methodology if used for quality of life evaluation. Several kinds of biometrical parameters have been demonstrated to be significant in the evaluation of the HRQoL alongside with the PROs. It has also been shown that individual quality of life is tightly related to the patient frailty status (PFS). Pre-frail elders need a constant monitoring to catch any drift in their frailty markers for foretelling a possible shift in their PFS. A scalable hardware/software architecture has been realized with the aim of gathering vital parameters keeping low cumbersomeness. Systems should be able to gather, post-process and analyze monitored person's vital parameters but, at the same time, patient therapies' effectiveness can be constantly monitored and examined in deep. In the next future, the widely spreading of these systems will produce an huge quantity of structured, semi- or quasi-structured data. In order to reduce the complexity and manage such data, new storage techniques and new processing algorithms are desirable. Aim of this paper is to describe a novel architecture and an example of the algorithm to reduce the complexity of the non-structured data like a single-channel ECG.