Published in: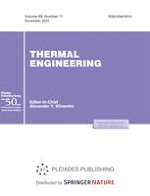 01-11-2022 | STEAM BOILERS, POWER-PLANT FUELS, BURNER UNITS, AND BOILER AUXILIARY EQUIPMENT
A Pulverized Coal Fuel Electrical Ignition System and Its Application Experience
Published in: Thermal Engineering | Issue 11/2022
Login to get access
Abstract—
The article presents an original electrical ignition technology based on intensifying the electrochemical and ionization processes in the zone where the electrical discharge influences a pulverized coal mixture. The experience gained from applying this technology at operating power facilities is described. During the electrical ignition system's (EIS) operation, the high voltage in the interelectrode space initiates oscillatory excitation, molecule dissociation, and gas atoms' ionization processes. This gives rise to a drastically larger number of particles whose energy exceeds the chemical burning reaction energy barrier threshold, due to which the fuel mixture ignites at low temperature. With the EIS put into use, it becomes possible to do without the supply of supplementary fuel (fuel oil) for lighting the boiler at coal fired thermal power plants and to do away with the equipment associated with using supplementary fuel (fuel oil facility etc.). In addition, the use of this system can help replace fuel oil at boiler houses by cheaper fuel that also does not pollute the atmosphere. The article presents the results of industrial tests of the technology in PK-24 and PK-10Sh boilers in using different fuels: a mixture of grade B (3BR) Mugunsk and Azeisk brown coals, grade B (2BR) Irbeisk brown coal, grades D and DSSh Cheremkhovo black coal for the PK-24 boiler and grade B (2BR) brown coal from the Irsha-Borodino open cast mine for the PK-10Sh boiler. It is shown that the oil-free lighting (OFL) system performs efficiently and makes it possible to fully replace the existing lighting system with wood-fired muffles. The flame from the OFL lighting-up burner reliably ignites the pulverized coal fed through the main burner.