08-11-2019 | Review Article | Issue 2/2020 Open Access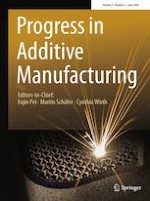 A review on the use of additive manufacturing to produce lower limb orthoses
Journal:
Authors:

Mohammed S. Alqahtani, Abdulsalam Al-Tamimi, Henrique Almeida, Glen Cooper, Paulo Bartolo
Important notes
Publisher's Note
Springer Nature remains neutral with regard to jurisdictional claims in published maps and institutional affiliations.
1

Introduction

Orthoses are a good example of personalised products. To be effective, they must be designed considering the anatomic characteristics of the user and they must fit the corresponding applications (e.g. rehabilitation or supporting activities). However, due to technological limitations and associated costs, personalisation was not explored before. This paper discusses the implementation of mass personalisation to produce orthotic devices, focusing on the emerging use of additive manufacturing. The most commonly used techniques are discussed, and examples provided. Finally, some research challenges are presented.
2

Mass personalisation of orthoses

However, among these technologies, only vat photo-polymerisation, powder bed fusion and material extrusion have been explored to produce orthoses.
3

3D-printed orthoses
3.1

Vat photo-polymerisation
3.3

Powder bed fusion

Powder bed fusion can be used to produce both polymeric and metallic parts. Bhatia and Sharma [

47

] used this technology to print a robotic for a woman who was paralysed from the waist down, enabling her to walk and to perform daily activities (Fig.

9

). The patient was scanned on the thigh, shin and spine, and then the scanned data were used to design and print the components of the robotic suit. Finally, the printed components were assembled with actuators and controls [

47

].
×
Orthoses are commonly prescribed for Rheumatoid arthritis which causes inflammation in the joints, leading to pain, stiffness and deformity. A customised device can be an effective tool to improve function and mobility of patients suffering from this disease. Pallari et al. [
48
] investigated the feasibility of using powder bed fusion for the fabrication of customised foot orthosis, showing that the 3D-printed orthoses are as effective as currently prescribed orthoses. Drop foot is another disease that affects the ability of patients to raise their foot at the ankle. In this case, Milusheva et al. [
49
] and Faustini et al. [
50
] designed and fabricated personalised ankle–foot orthosis, based on a 3D laser scanning model of the patient's ankle–foot, to assist and restore the ankle–foot movements. These orthoses also used a passive component (e.g. spring) to provide support during the stance phase (Fig.
10
).
×
Creylman et al. [
51
] evaluated the clinical performance of ankle–foot orthoses manufactured through powder bed fusion. The experiment was conducted on eight subjects with unilateral drop foot. Two AFOs were fabricated for each subject (Fig.
11
): one additive manufactured in Nylon 12 (polyamide—PA) and the other conventionally casted in PP. The results show that all produced AFOs have a beneficial effect regarding the spatial–temporal gait parameters (e.g. step length, speed) and the ankle kinematic parameters (joint angle, joint rotation) in comparison to the barefoot gait of adults with drop foot gait. Results also show that additive manufactured AFOs present at least equivalent clinical performance as clinically prescribed ones. Additionally, additive manufacturing allows reducing the fabrication time and guarantees the consistency of shape compared to the traditional process [
51
].
×
4

Challenges and conclusions

Commercially available orthoses are not fully customised devices. They are produced using conventional machining and/or casting process, which does not have the capability to produce small and intricate features. Ideally, orthoses must be fully personalised to be efficient for the treatment of an individual patient with different diseases and injuries. Technological limitations were the main constraint for mass customisation and personalisation. The emergence of additive manufacturing technologies allows the fabrication of custom-made orthoses in a cost-effective way. The combination of additive manufacturing and individual anatomic data allows the fabrication of complex and more comfortable devices reducing cost and development time.

Among the different additive manufacturing techniques currently available, only vat photo-polymerisation, material extrusion and powder bed fusion have been explored. Material extrusion is the most affordable one but limited to the use of polymers.

Orthotic devices can be produced through the use of a wide range of materials such as plastics (thermoplastics and thermosets), metals, synthetic fabrics and combinations of these materials. The most commonly used additive manufacturing materials are ABS, PLA and PA as they can be easily processed and provide adequate mechanical properties. These materials can also be combined with soft natural polymers (hydrogels) able to absorb moisture, reduce friction, reduce skin irritation and increase patient's comfort.

The examples provided in this paper clearly indicate the potential of additive manufacturing for the fabrication of orthoses. However, there are challenges to be considered:
Most additive manufacturing machines have a working volume smaller than the dimensions of the exoskeleton. In this case, different components must be considered, printed and finally assembled. This increases labour time and cost.

Additive manufacturing has been used to produce small-scale passive orthoses or components for large-scale passive orthoses. The use of additive manufacturing for the fabrication of active exoskeletons is an important challenge requiring not only in printing the built material but also to embed sensors and actuators during the fabrication process.

Additive manufacturing allows freedom of design. In the case of the design of orthoses, this means that new functionality can be considered. The combination of the shape or topology optimisation tool with additive manufacturing, for example, allows the fabrication of lightweight structure without compromising the mechanical performance. Therefore, the design of orthoses to be produced through additive manufacturing must also take into consideration the characteristics and constraints of each technique (design for additive manufacturing).
Acknowledgements
The first author acknowledges the support received by The King Saud University to conduct his PhD studies.
Compliance with ethical standards
Conflict of interest
No potential conflict of interest was reported by the authors.
Open Access
This article is distributed under the terms of the Creative Commons Attribution 4.0 International License (
http://​creativecommons.​org/​licenses/​by/​4.​0/​
), which permits unrestricted use, distribution, and reproduction in any medium, provided you give appropriate credit to the original author(s) and the source, provide a link to the Creative Commons license, and indicate if changes were made.
Publisher's Note
Springer Nature remains neutral with regard to jurisdictional claims in published maps and institutional affiliations.