04-10-2019 | Technical Paper | Issue 4/2020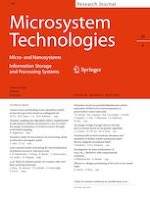 Comment on "A novel numerical modeling paradigm for bio particle tracing in non inertial microfluidic devices" by Ebadi et al.,
Microsystem Technologies

(2019) https://doi.org/10.1007/s00542-018-4275-6
Journal:
Author:

Stefano Cerbelli
Important notes
Publisher's Note
Springer Nature remains neutral with regard to jurisdictional claims in published maps and institutional affiliations.
Abstract
In Ebadi et al. (Microsyst Technol,
https://​doi.​org/​10.​1007/​s00542-018-4275-6
, 2019) the authors detail a supposedly new paradigm for tackling transport of micrometric-sized particles suspended in a buffer solution flowing through a deterministic lateral displacement (DLD) separator. The approach, named by the authors efficient particle trajectory simulation method (EPTSM), is presented in the form of a numerical procedure for the time-advancement of particles trajectories taking into account both the Stokesian drag of the fluid surrounding the particle and the obstacle hindrance effect. In point of fact, the approach described by the authors is neither original nor new, as it closely traces over the transport paradigm based on the concept of effective obstacle, which was first put forward in Cerbelli (Asia Pac J Chem Eng 7(SUPPL. 3):S356–S371, 2012) and exploited in a series of subsequent articles to predict separation efficiency and separation resolution in a variety of geometries and operating conditions typical of DLD processes. The exact sameness between the EPTSM and the effective obstacle template is illustrated by taking one of the cases reported by the authors as benchmark test example.