01-09-2014 | Issue 5/2014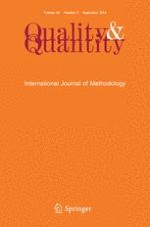 Comparative trends in global communication networks of #Kpop tweets
Journal:
Authors:

Minjeong Kim, Yun-Cheol Heo, Seong-Cheol Choi, Han Woo Park
Important notes
This work was supported by the 2013 Yeungnam University Research Grant.
Abstract
This exploratory study is designed to provide an in-depth understanding of the communication world that Twitter mediates in the context of global conversations centering on the topic of Korean pop music (Kpop). Drawing on the theoretical framework of the duality of media, this study proposes that the multifaceted communication world that Twitter mediates can be understood as a result of interactions between Twitter users and the structure of Twitter. We collected all Tweets including the hashtag
#kpop
from November 9, 2011 to February 15, 2012, and then applied the webometric technique to visualize the #kpop Twitter networks across various regions of the world. We examined the use of URLs and hashtags in #kpop Tweets and found that Twitter use varied across regions, forming various communication networks. The results suggest that Twitter's technological design can shape communication patterns as well as structures.