24-01-2019 | Research Article | Issue 1/2019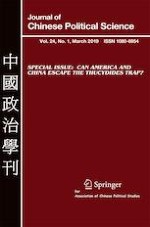 Did Thucydides Believe in Thucydides' Trap? The
History of the Peloponnesian War

and Its Relevance to U.S.-China Relations
Journal:
Author:

James Lee
Abstract
The Peloponnesian War, a conflict between the Greek city-states of Athens and Sparta and their respective allies, is held to be a classic example of war between a hegemon and a rising power. Graham Allison has recently coined the term "Thucydides' Trap" to emphasize how structural forces are leading to instability in U.S.-China relations. This interpretation of history is inaccurate and reflects the influence of misleading translations. Drawing on the original Greek text of Thucydides'
History of the Peloponnesian War
, I argue that the concept of Thucydides' Trap does not find support even in the case that has given it its name. Thucydides' famous attribution of the war to "the growth of the power of Athens" actually refers to the expansion of the Athenian Empire rather than a shift in the distribution of capabilities. Structural arguments do offer valuable insights about potential sources of conflict in U.S.-China relations, but the causal mechanism has little to do with the analogy of Athens and Sparta. As exemplified by the flashpoint in the Strait of Taiwan, structural change has aggravated long-standing differences between the United States and the PRC. Beijing's growing economic and military power has resulted in a growing threat to Taipei, which has led the United States to affirm its commitment to Taiwan's security in ways that are inconsistent with the One-China policy. If this trend continues, it will raise the potential for a military confrontation between the great powers in East Asia.