11-05-2019 | Issue 8/2020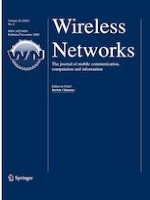 Evolutionary intelligence in wireless sensor network: routing, clustering, localization and coverage
Journal:
Author:

Ali Jameel Al-Mousawi
Important notes
Publisher's Note
Springer Nature remains neutral with regard to jurisdictional claims in published maps and institutional affiliations.
Abstract
Evolutionary intelligence has become one of the most important directions that improve the performance and effectiveness of automated systems such as communication systems, robotics and engineering industries. Today, there are many applications of evolutionary intelligence in many engineering fields and the most important fields related to computation and informatics engineering as a part of electrical and communication engineering, as modern engineering applications are involved in these fields. The sensor network is the main data source in the world of smart systems nowadays. Additionally, it has become a field of science used in the development of the rest of scientific applications. The need to use evolutionary intelligence in sensor networks has emerged because of the problems encountered by different types of sensor networks. This paper represents a comprehensive scientific review of the role of evolutionary intelligence in sensor networks and its implications for this important part of engineering applications. This paper discusses the theoretical, mathematical and practical application of evolutionary computing with the use of evolutionary algorithms and the improvements resulting from the application of evolutionary intelligence in sensor networks. The content of this paper will review the most important of the evolutionary intelligence from principles, algorithms and applications. The problems facing the types of sensor network has been solved using evolutionary algorithms. After reviewing the evolutionary intelligence and its details in the sensor network, a performance evaluation is presented in the paper at the end of each of the targeted areas of the sensor network. This performance evaluation represents the measure of the quality of improvements provided by evolutionary intelligence in sensor network field with graphical analysis studies to demonstrate the effect of evolutionary algorithms on the sensor network.