04-05-2018 | Issue 8/2019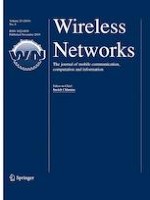 KEIP: a distributed
k

-connectivity estimation algorithm based on independent paths for wireless sensor networks
Journal:
Authors:

Orhan Dagdeviren, Vahid Khalilpour Akram
Abstract
Maintaining the connectivity between all nodes is a challenging task in wireless sensor networks (WSNs) because failure of some nodes may divide the network to disconnected parts. A network is
k
-connected if we need to remove at least
k
nodes to disconnect it. There are at least
k
disjoint paths between each pair of nodes in a
k-
connected network which preserves the connectivity of the network after removing
k
-1 arbitrary nodes. Therefore, with high
k
values the network may tolerate more failures without losing its connectivity. Finding the
k
value of a given network can provide useful information about the robustness of the connectivity. The existing distributed
k
-connectivity estimation (detection) algorithms use local neighborhood information to find an approximated value for
k
. In this paper, we propose a new energy efficient distributed algorithm which finds the
k
value of the given WSN with more accuracy by detecting the minimum number of disjoint paths between the sink and all other nodes. We extend the definition of disjoint paths to independent paths, which are the disjoint paths with shared nodes, and use this concept to find the
k
value. The comprehensive simulation and testbed results show that the proposed algorithm is faster and has at least 20% higher correct detection ratio, lower mean square error ratio and also lower energy consumption than the existing algorithms.