11-03-2019 | Issue 8/2019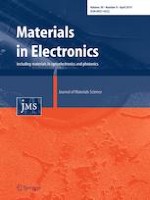 LiF additives doped Li2Mg3Ti0.95(Mg1/3Nb2/3)0.05O6 microwave dielectric ceramics with high
Q

f values
Authors:

Chunfang Xing, Yingzi Wang, Yaokang Yang, Zichao Wu, Haitao Wu
Important notes
Publisher's Note
Springer Nature remains neutral with regard to jurisdictional claims in published maps and institutional affiliations.
Abstract
In the present work, the Li
2
Mg
3
Ti
0.95
(Mg
1/3
Nb
2/3
)
0.05
O
6
(LMT(MN)) samples with LiF additions (1–5 wt%) were prepared using the solid state method. The effects of LiF additives on sintering behavior, phase compositions and microwave dielectric properties of LMT(MN) samples were explored. According to XRD analysis, the LMT(MN) cubic solid solution was formed in ceramic sample in the whole composition range. LiF obviously lowered the optimum sintering temperature of LMT(MN) ceramic from 1550 to 1000 °C, indicating that LiF additive was beneficial to the improvement of the sintering characteristic of the matrix. The variations of the LiF additives and sintering temperatures were important factors to affect the microwave dielectric properties of sintered samples. High performances of microwave dielectric properties were achieved in LMT(MN)-3 wt% LiF ceramic sintered at 1000 °C with a dielectric constant (
ε
r
) of 14.95, a high quality factor (
Q
f
) of 117,630 GHz and a temperature coefficient of resonant frequency (
τ
f
) of -11.22 ppm/°C.