01-09-2019 | News | Issue 3/2019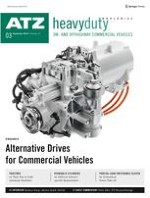 Products
Journal:
Whether in agriculture and forestry, in rail technology or in the automotive industry - the basic requirement for pipe connections in hydraulic systems is the same everywhere: absolute ultra-fine tightness. The Voss Lok
40
system, which is based on the principle of pipe forming, has already established itself with many Voss Fluid customers. As a purely metal-sealing pipe forming system, it guarantees a high-quality connection of pipe systems with high leakage protection for the user. The cone contour at the end of the pipe to be connected is formed by the fitter with the Voss Lok
40
forming machine. This produces the required 40° geometry and an additional sealing edge on the pipe end face. In contrast to clamping ring systems, the mechanical forming process almost eliminates errors due to the automatic and monitored forming process. In addition, the total assembly time is reduced by up to 66 % compared to clamping ring connections.
×
...