11-01-2020 | Issue 8/2020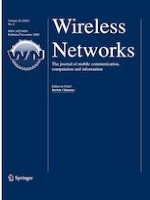 Reverse logistics optimization of an industrial air conditioner manufacturing company for designing sustainable supply chain: a fuzzy hybrid multi-criteria decision-making approach
Journal:
Authors:

Sadia Samar Ali, Turan Paksoy, Belkız Torğul, Rajbir Kaur
Important notes
Publisher's Note
Springer Nature remains neutral with regard to jurisdictional claims in published maps and institutional affiliations.
Abstract
Magnified resource consumption and depletion of natural resources calls for non-flexible or strict regulations and penalties on industrial operations, increased rate of processing and reuse of waste material as a substitute for raw material and political and legal interventions at global scale. Product recovery involves reuse, repair, refurbishing, remanufacturing and materials recycling, requires an efficient network design known as reverse logistic network and offers economical benefits in terms of fewer procurement of raw material, inventory management and less disposal. In current study, a mixed integer linear programming model designed on a multi-stage reverse logistics network for product recovery is proposed which considers different recovery options-product remanufacturing, component reprocessing and material recycling for sustainable outcomes. The model is designed to find optimal solutions for fulfilling demand and revenue needs by focusing on strategic locations for collection centers, reprocessing centers, remanufacturing plants and transportation options and simultaneously achieving sustainability goals. The model is applied on an Indian based manufacturing unit of a Saudi Arabian Industrial Air conditioner manufacturing organization and the case is presented here. The model is converted into a multi-objective programming model in accordance with the importance of each objective suiting the business needs. All relevant objective functions are evaluated using BWM, AHP and FAHP methods to obtain weights for integration into a fuzzy linear programming model which eventually provides three separate results. The model applied has originality and uniqueness for applications to solve multi-objective problems under uncertain environment and tends to strike a balance between economic and environmental objectives. The study provides for a base for further scope covering uncertainty about the amount and quality of returned products and even can be implemented by practitioners and academics for making a significant contribution in improving the efficiency of supply chains.