01-08-2009 | Meinung/Dialog | Issue 4/2009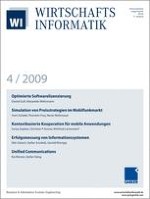 Akkreditierung von Wirtschaftsinformatik-Studiengängen: Stärkung der Wettbewerbsfähigkeit oder Stärkung der Bürokratie?
Journal:
Authors:

Prof. Dr. Robert Winter, Elmar J. Sinz, Thomas Dyllick, Karl Kurbel, Heinz-Ulrich Schmidt, Torsten Eymann
Important notes
This article is also available in English via http://www.springerlink.com and http://www.bise-journal.org: Winter R (2009) Accreditation of Study Programs in Business and Information Systems Engineering: Towards more Competitiveness or Towards more Bureaucracy? Bus. Inf. Syst. Eng. doi: 10.1007/s12599-009-0064-1.
Akkreditierung heißt, dass Prozess- und Produktqualitätsaussagen eines Anbieters gegenüber Kunden oder Interessenten durch eine unabhängige Instanz bestätigt werden. Je weniger unterschiedliche Akkreditierungen es gibt, desto eher werden ihnen durch Kunden und Interessenten vereinheitlichende, Vergleichbarkeit schaffende und/oder Selektion unterstützende Wirkungen zugeschrieben. ...